Stockholm (NordSIP) – European markets are setting the global standard in terms of corporate sustainability, according to the new edition of the binnaual Morningstar Sustainability Atlas (MSA). Denmark scored the highest on social criteria, while Portugal scored the highest on environmental and the Netherlands score the highest on governance criteria.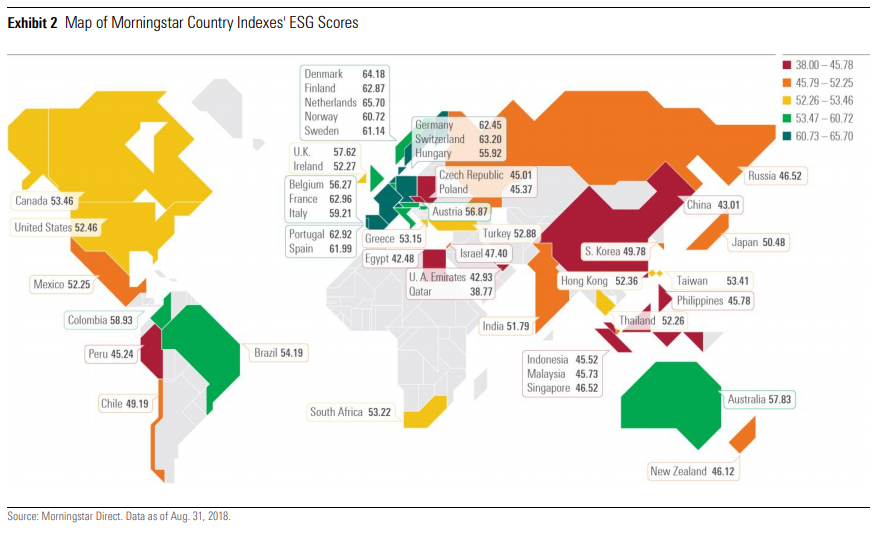 The Netherlands scored the highest in terms of overall ESG scores (aggregate ESG scores ignoring deductions made for controversial incidents), with a score of 65.70. Denmark followed in second place, with a score of 64.18. Finland came in third, with a score of 62.87, while Sweden and Norway rounded out the top 5 with scores of 61.14 and 60.72 respectively.
Morningstar also attributed Sustainability scores (scores that consider both ESG and controversial incidents). In order to determine these, the sustainability profiles of 46 country-specific Morningstar equity indexes spanning developed and emerging markets and representing 97% of global market capitalisation were examined using company-level ESG scores. The MSA takes a bottom-up approach, with the sustainability rating of national equity markets scored on the basis of the companies constituting their equity market indexes, using the same methodology sustaining the Morningstar Sustainability Rating for funds.
Sustainability assessments were provided by Sustainalytics, which compares over 10,000 company ESG profiles across the globe with industry peers based on industry-specific indicators. Central criteria are preparedness, disclosure, quantitative and qualitative performance.
Colombia is the world's highest scoring non-European market for sustainability, while Taiwan is the top Asian market. At the other end of the scale, Japan and Korean equities scored poorly on corporate Governance criteria, while China landed at rock bottom across all three ESG criteria. The United States is a middling performer, in part due to the poor Governance scores for companies like Facebook, Alphabet and Amazon.
The Morningstar Denmark Index's high scores were driven largely by pharmaceuticals company Novo Nordisk, Morningstar said.
Image: Pixabay