Stockholm (NordSIP) – This week, we celebrate the first anniversary of the Nordic Swan's eco-labelling of the first 12 Swedish funds. Since then the Swan has been busy labeling another nine funds, and has expanded to new types of products. Today, the aggregated assets managed by the labeled funds add up to over SEK 71 billon (approximately €7 billion). At the end of September, Pareto's Global Corporate Bond fund was the second bond fund to receive the label and this week, index fund XACT Sweden was the first of its category to obtain the Swan stamp.  "It should be easy to do the right thing. It should not be harder to choose an eco-labelled fund than to choose an eco-labelled detergent," says Pär Nürnberg, CEO of Xact Asset Management, the index fund management arm of Handelsbanken, in a press release (in Swedish).
"We are very pleased to be able to present the first index fund in Sweden today, and that we have been able to enroll an important player like XACT, who is involved in and drives the development towards sustainable saving," says (in Swedish) Per Sandell, Head of Financial Services at Miljömärkning Sverige, the Swedish state-owned company who awards the Swan label.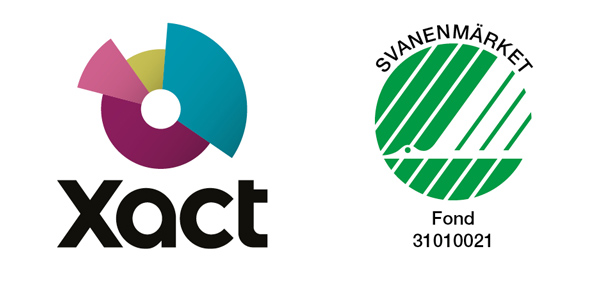 XACT Sweden is a listed index fund which follows the SIX Sweden ESG Selection Index GI. The index consists of large and medium-sized Swedish companies that meet the sustainability requirements in the index. To be included in this new ESG version of the SIX index, companies have to show a high sustainability ranking and not be involved in any controversial activities.
"We have previously adapted sustainability to the more traditional index funds by selecting new indexes with sustainability criteria. When the Swan label came about a year ago it was clear that no existing index fully complied with the sustainability requirements that the eco-label requires. As Sweden's leading providers of index funds and ETFs, we saw this as a challenge and began to collaborate with one of our index providers SIX and one of the ISS-Ethix-Oekom's sustainability analysts we work with. Together they have managed to create a brand new equity index "SIX Sweden ESG Selection Index" that meets the high standards of durability that the swan label sets," explains Nürnberg.
"When we worked out the criteria, we already had in mind to open up to different types of funds to offer a breadth of choice to savers. An index fund, like an actively managed fund, can live up to the Swan's requirements. We have carefully monitored how the index that the fund follows is structured and how any deviations can be addressed," says Sandell.
Picture from Pixabay