This conversation is part of a roundtable discussion. Read the report here.
Kellner believes that the lack of measurements reduces the accountability of SDG-related investment narratives. "When we come to the point where we are better able to measure the SDGs, then it will be more difficult to hide behind the goals. Today, anyone or any fund can pick an SDG that applies to their current strategy. For a fund with a climate strategy, for example, it is easy to plug into the climate-related goals, and there are many products focused on climate at the moment. But when it comes to measurement, we may be able to assess a funds impact on all SDGs, and then target specific, quantifiable goals. At the start, it may not be so easy, but if and when we find good measurements, it will make more sense. Of course, some of the targets are easier to measure than others. Carbon emissions are more quantifiable than the impact an investment has on poverty, for instance. Today, a manager may be able to show that they have picked specific SDGs and that they focus on those in a fund. Then they can illustrate what they have accomplished or what impact their fund has in specific areas thanks to real-life examples or case studies. Without measurements, it remains a difficult endeavour."
Deino agrees that quantifying impact is tricky. "It may not even be quantifiable in some cases. I could put a number on my ESG fund and my traditional mutual fund, and I could say, that we are cutting carbon emissions by 60 percent. I can show how we are coming from a high level, calculated based on sales, or capital, and going to another level. Risk characteristics are not dissimilar. The yield, the duration, everything remains practically unchanged. Hard numbers look exciting, but for most of the SDGs the impact is more very subjective."
For Vyverman, intentionality is at the core of the SDG-washing question. "Beyond the fact that people are jumping on the SDG train and using them, it is all about the intentionality that investors have when targeting one or more of goals. The intentionality of targeting SDGs is key, which means that companies or investors need to be able to report on it. They need to communicate about it before starting and then be held accountable just like they are with their financial return which brings us to the point that SDGs needs to be quantifiable as well. You need to be able to put figures behind them, and that is a challenge, but I believe that it is feasible."
"Often as managers," Vyverman adds, "we find ourselves in a position where every investor comes with a different set of reporting criteria, and it becomes quite impossible to comply with all of them. There is a need for a more uniform taxonomy to define targets. Efforts are being made already. The GIIN, as far as impact investing goes, has put out a taxonomy, which is fairly simple. I also want to have metrics which are relevant to companies. Otherwise, they are going to look at is as a burden and there will be gaps, or blanks."
"The Sustainability Accounting Standards Board (SASB) has made a real effort to develop and refine the initial classification on an industry basis," comments Deino, "but it's important to have a somewhat uniform standard, because looking at sustainability reports in general, a great deal of what they contain is different from company to company."
"Ultimately it is not the managers that will determine reporting standards," continues Vyverman. "Every manager will determine which ones are the most appropriate in his view, but if investors can find consensus around the taxonomy, the managers' task will be infinitely more straightforward, as they will have clear guidance of what their investors want, instead of having to follow a myriad of different standards."
Comparing and selecting managers
At Länsförsäkringar, Dreiman explains, the organisation is making quick advances in the demands it imposes on external managers. "We have just defined a set of new minimum ESG criteria imposed on all external managers (liquid funds), both during the selection process and the ongoing monitoring. These criteria focus on the managers' commitments and activities related to ESG, as well as the outcomes of these activities on a fund level. Regarding the outcomes, meaning the funds' investments, we focus on minimising controversial holdings, as well as climate risks, and finally, that the companies the fund selects have either a better ESG profile than their peers or a positive ESG momentum. They could lag today but have made commitments to improve, or the manager can show that this company is moving in the right direction, and the investment and its engagement activities can support that change. On the other side, we look at and analyse a broad array of ESG controversies, among which, environmental incidents, human rights violations and involvement in corruption. We want to make sure the manager is aware of them, engage with relevant companies and adjust the investment if an individual company is acting irresponsibly. For us, that is a minimum standard. These criteria will be applied on all the liquid funds both in the institutional portfolio and on our platform. At the beginning of 2019, we hope to have defined the minimum criteria also for illiquid fund managers."
Once the funds have passed the entry barrier, the fund selection process at Länsförsäkringar relies on an in-depth analysis of each fund's holdings. "We collect external data," explains Dreiman, "both through Morningstar Direct, where you can compare individual funds against its peers in a defined fund category, across different ESG indicators in Bloomberg, but also through individual positions, and we look at the number of holdings in tobacco, weapon manufacturers, thermal coal, et cetera. We look at the aggregated fund level but also individual stocks. In emerging market funds, we pay even more attention to inherent ESG risks, and to what extent individual funds mitigate this cocktail of different risks. Often, we need to take many more ESG controversies and incidents into account, but the strategy and market focus needs to be taken into consideration as well."
Kellner finds it challenging to impose minimum criteria, for global managers in particular. "We find cultural differences regarding exclusions. What is controversial in Sweden may not be considered so in another country, and it may be linked to that country's flagship industries. For example, we have a policy of not investing in nuclear weapons or weapons production, and Boeing is a huge U.S. company who happens to manufacture weapons and is also a very common holding in the portfolio of a U.S. manager. The same is true for Airbus for French managers. We might be too small in each of these managers' universe of clients, and then they won't exclude these holdings for us. What should we do? Should we let them implement our exclusion list? It could be tricky because each client has its norm-based screening and exclusion list. Should we stick with our list no matter where we invest? Or should we let the managers themselves control their norm-based screening and trust them that it is compliant with ours and then some elements of the list may differ? In our team, we are still discussing the best practice to impose a minimal load. How do you deal with that, Kristofer?" Kellner asks.
At Länsförsäkringar, according to Dreiman, the exclusion list represents a firm threshold for our own funds and discretionary mandates. This list and the additional minimum criteria are then imposed on external funds in selection and ongoing monitoring. "First you need to differentiate between the selection process and funds that you already own," Dreiman adds. "Starting with the selection process, if you have individual holdings linked to controversial weapons the fund will not get through the minimum ESG criteria threshold, which means the fund is out. On the funds that have been selected already, we screen holdings both in recommended funds on the unit-linked platform and funds in the institutional portfolio, every six months. If an individual fund is identified as having high ESG risks, we will engage with the manager and give them a time span to improve or otherwise, we, in the responsible investment unit, will provide a recommendation saying that we want to replace this fund."
At Folksam, comments Bolin Gärtner, the process is similar but sometimes not as strict. "We do follow Folksam's exclusion list, but we do not enforce it in a strict black-or-white manner. We use it as a discussion point because managers can have different views on certain companies and someone might have divested while someone is engaging instead. What is important for us is to follow up, and we also raise the bar continuously. So, for instance, for new funds coming on board, they need to show that ESG is integrated into their investment process, transparently. Then we very much like to engage with the funds and to see how they evolve. In the beginning, it was all about getting everyone onboard the PRI for instance. There are several fund companies that we have helped sign on. Last week, I met a manager at a lunch seminar, where they mentioned that they signed the PRI in 2014 thanks to Folksam and that they are now turning their portfolios tobacco-free because of us, again. The interesting part is that we are not currently invested in that fund as they had a period when their performance was not as we had expected, but we have continued to work with this fund company because they like our way of discussing these questions. It doesn't matter how big an investment you have, if you have a solid approach and you want to engage, you can create a meeting point with the manager. Then, of course, you want to invest in these funds, but they also have to perform. This is how the equation has to hold."
Dreiman agrees with the notion that there can be grey-zones in the application of exclusion lists. "It is crucial to explain the underlying drivers and reasoning behinds different exclusions. We share the list of ESG related norm breaches, and the companies linked to those, with our external managers, and often they get back to us with their analysis and opinion. Sometimes they don't have an opinion. That's bad and will result in a low mark. Sometimes they share an opinion that is entirely different opinion from ours. And we appreciate the dialogue that follows." "In the case of nuclear weapons, for instance," ads Bolin Gärtner, "you may have nuclear power plants, and those are okay for Folksam, but not nuclear but weapons, and you have to double check how each holding relates to the exclusion list."
Deino explains why norm violations may translate into different decisions when implementing exclusions. "It is hard to draw the line sometimes. I have managed diverse flavours of exclusionary and blended sustainable strategies, and at some point, we sat around and thought about some cases that are hard to place. As an example, looking into buying exposure to a bank. In many instances, there is no disclosure as to 100% of their loan portfolio. We can never hence be 100% sure they are not lending to, let's say, a tobacco company? Are they lending to, for example, a company that produces nuclear weapons or turbines for the wrong kind of power plant? And if so, where do you draw the line?"
Vyverman agrees that, even in a private equity fund, lines need to be drawn in some cases. "Our team deals with these questions quite a lot, in our agriculture fund. GMO is a discussion point; however, we decided as a company to put it on our exclusion list. Even then it depends, again, how far you go through the value chain: production of GMO crops, GMO seeds, yes. But do you go as far as the logistics company that transports the GMO crops or that processes the GMO crops into food? We have drawn that line at the production of the seeds. After that, the lines become extremely blurry. It is also tough to track what is going on. You cannot open every single container to test and see what is in there. But when it comes to discussing the matter with our investors, our policy is clear enough. I haven't had those types of discussions, we are using IFC / World Bank guidelines for our agriculture-focused investments."
In private equity, the due diligence process can also go further than in public market companies. "We dig very deep," says Vyverman. "The whole ESG diligence is outsourced because we don't claim to be specialists in every segment. One day we look at processing, the next at retail, and so on. We have the ESG department that supports the investment team, but use independent experts. The process starts with screening, where each target receives a score, which indicates the risk, rather than rating whether they are high, medium or low in ESG. Then we do our due diligence. When the investment is approved, we engage into a comprehensive outside due diligence which is outsourced to different experts, depending on what the specific underlying company does. The result comes back to the investment committee, which makes the call, including specifically on ESG. Typically, we have companies complying with everything, but where we see room for improvement. We work out an ESG plan with this company, and it becomes part of the legal documentation, and it is, therefore, part of an obligation. If the company doesn't comply, it may trigger rights for an exit. It is on that basis that we can report to our investors. A company is at this level, we are aim to bring them at a higher level, and this plan how they will get there. Then we report on their progress on an annual basis. For us the idea is, I mentioned earlier, to create better-run companies also from an ESG point of view. That is where we see many opportunities to improve the bottom line of a company by doing things in a better or alternative way. We look at energy cost, water usage or inputs. That is part of the value we add. As a private equity fund, we have a limited number of companies, and we can work with them."
Data quality in emerging markets
In public markets, access and influence are more restricted. In particular, data might not always be readily accessible. Salazar comments: "You can always have more ESG data. The availability of data out there has increased and to the credit of big service providers, such as MSCI and Sustainalytics, they have been doing a lot of work on collating and presenting data. However, the lack of sufficient disclosure by companies in emerging markets makes it challenging to solely rely on publicly available information to assess our companies' ESG practices or performance. We do use the services of ESG data providers; however, the vast majority of the information we use comes directly from the companies. The best way for us to overcome the data challenge has been to establish good relationships with companies, to go to them and ask for the data ourselves. If they don't have it, we may work on a plan or try to work on a plan for them to be able to provide it. Again, it is important that the information is relevant to their business, and that it is going to add value in the long term. In general, we are still navigating difficult waters in which data scattered here and there."
"Would you be able to put a percentage on the companies that have data and the ones that don't, the ones which are in a transition, if you look at your portfolio?" asks Vyverman.
"Most of the large caps have data," says Salazar. "We run a responsible global emerging markets portfolio, and I would say around 60 percent of the companies in that portfolio display a good set of data, and that is mostly because we have specific ESG criteria for them to be able to be part of that portfolio. And most of that data we obtain directly from the companies. For the other 40 percent, the investment case revolves around the momentum. We need to see that they have at least started measuring the data. They may not be at the point where they can report it, but at least they take measurements now, and we are observing that journey. There is a risk we need to be willing to take when investing in companies where not all the data is available."
"The type of data we require will be reflective of the business of the company, specifically where the most material ESG risks and opportunities lie" Salazar continues. "If it is a food and beverage company in China, for instance, my questions are going to be more about, what are you doing about food waste? What are you doing with the emission along the supply chain? Where are you sourcing from? Have you identified high-risk spots within your supply chain? To the extent that we can, we refer to companies to international ESG reporting standards like GRI or SASB, which have done excellent work on incorporating materiality in their standards."
Deino contrasts the difference between his work and that of the large data providers. "Essentially what we do is take a closer look," he says. ESG data agencies have to cover a remarkably vast universe of companies, and as a result ESG scores are built using widely available information. We use data from ESG agencies as an input, and usually we calculate average scores from different providers. But we go one step further. We can be more targeted in terms of investment universe, which allows us to engage directly with the companies, and build our own proprietary ESG ratings on specific credit exposures."
Read the rest of the report here.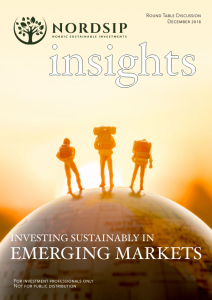 Image © Shutterstock