This conversation is part of a roundtable discussion. Read the report here.
ESG or sustainability is often mentioned as being long-term in nature, and sometimes it seems less compatible with high-liquidity investments.
Being able to invest in long-term vehicles like private equity, for example, or infrastructure funds, which are even longer term, is not always possible for all institutional investors. At Nordea Life & Pension, Kellner can look further than many others. "There is an advantage of managing pension money," she says, "because our beneficiaries are in for the long run. In Sweden, pension beneficiaries can select their investments on a short-list of product, or they can choose to rely on an institution like Nordea to manage the money for them. Most clients don't even know what they are invested in, so they trust us in all aspects and now also ESG. The money is locked in for a long time so that we can invest in both liquid and illiquid vehicles. Even regarding the liquid funds, there is hardly any in- and outflow, from our side. The same is true for the fund selection part, where people can decide themselves which ones they want to pick. Most of the clients are not that active in changing vehicles. This opens possibilities to venture into the illiquid side, which is very interesting when it comes to ESG and emerging markets in particular."
At Folksam, all funds have to be daily-traded and open-ended, which restricts the field for Bolin Gärtner and her fund selection team. "We have to abide by these restrictions when we choose funds of course, and we need to accept the world we live in. That said, funds that claim to have an 'impact' seem to have spread to the liquid side. Several global funds have changed name, all of a sudden, and now they are 'impact funds'. You might think that it takes a long time to make an impact; hence I would call some of these funds perhaps 'impact-light'. Maybe that is the way it has to be in the unit-linked world, as long as you understand what they are doing, and they are not pretending to do something that is very long-term, because that is not possible. To be genuinely long-term a vehicle needs to be illiquid and that means private equity or a similar structure."
At Länsförsäkringar, Dreiman talks about a portion of the portfolio that is linked to alternatives. "What is interesting about long-term commitments there, is something that comes up when we discuss side-letters with both private equity and private debt investors. From our but also the managers' perspective, we can end up with paragraphs linked to everything from the manager's commitment to ESG management but also to report on the ESG profile of the individual fund, and how the manager is supposed to future-proof that, say ten years ahead. For example, looking at climate risks, today many Swedish investors have some exclusion criteria linked to thermal coal, and some on other fossil fuels as well. Soon we will probably also have a holistic view on that and talk about those that use the fossil fuels, such as transportation, industrial manufacturing, and agriculture, and other climate-deteriorating activities such as deforestation, and more. Many more sectors will also be analysed through both transition and physical climate risk lenses. But those discussions and developments about where we are supposed to head to are ongoing and evolving as we speak. Our ownership policies, responsible investment policies or equivalent policies, will change as well. Hence, what we sign today might not be 100 percent relevant in two or five years. But we still need to make sure that whatever we put in the side letter is also somewhat future-proof. We often have these discussions with private equity managers."
Vyverman agrees with Dreiman's point: "I see your point, Kristofer, even if I haven't been confronted with the question from our investors. Given what we do, and responsAbility stands for, I don't think we would have an issue with agreeing on an evolving target. This point comes back to the idea of intentionality."
A PE Fund has typically a life of ten years. Vyverman considers that it is long enough to generate impact. "In the end, one needs to be realistic. You need to provide liquidity, and you need to provide proof of concept. Which means you need to provide for an attractive return." Deino adds: "You need to return the capital, and there is a discount rate associated to it. The money is not free."
"The investment horizon is something that we need to think about the moment we deploy our money. We project a financial return over those five-, six- or seven-year holding periods. We do the same thing on the impact side. What positive impact can we generate during that time? We take stock of what there is today and make growth assumptions. If you talk about impact investing, it needs to be growth capital. Financial engineering is something that may not create anything, so there needs to be growth to create a positive impact. The company is likely to continue to grow beyond our five- to seven-year investment, for sure. We could surely generate more impact as well. But we take that into account in our exit process. Who am I selling this to? Who is taking this over? Are they subscribing to what we are subscribing to? That is why it is crucial that the impact we generate is inherent to the business models that we invest in. It is not a company that does everything wrong, and we change it into a company that does everything right, but from one day to the other, the company can go back to doing everything wrong again and make more money out of that. That is not what we are doing."
From Kellner's point of view, the embedding of ESG investment practice may procure a fund like responsAbility an advantage over others, further down the line. "You are holding this company in your possession for many years, and at that point, you may hand it over to someone else. Fast-forward ten years, I assume some of these ESG requirements are going to be relatively more significant than they are today. It may be a necessity to get the companies up to scratch or else, you will have difficulties finding a buyer when your investment time is over, or you will not be able to collect as much money as you would like. Rik, you are already focusing on this, but there are so many other private equity companies, which in my view are way behind other asset classes because they haven't even put up a policy on their webpage. They have a long way to go. They are probably going to run fast and implement it quickly, but they are also going to have to sell the companies they have today to another world in a few years. The requirements will change, and they will have to work hard, on the ESG aspects as well as on the traditional issues, to be able to get a good return when they exit."
As a fixed income investor, the investment horizon can also be very long. The main focus around ESG from a pragmatic aspect is uncovering vulnerabilities and avoiding drawdown. There is another side of the coin, however, and I am very acutely focused on the long-termism of management as a concept because it means that this is a proven management team, and everything from the staffing of senior management to accounting is going to be geared towards the long-term sustainability of the business. Here is an example. Most recently, we noticed a housing developer in Mexico saying: our product is very important socially because we are providing housing, while there is an amazing housing shortage in Mexico. That all sounds great and good, but then over the quarters we would see revenues consistently increasing, then we would notice accounts receivable also growing as a percentage of total revenues. And what does that mean? To generate and maintain EPS in an environment where short term growth and EPS was foremost, management was "going the extra mile", until one day the balloon popped. This is a tangible example of why the long-term perspective is quite important. As I said, it is not necessarily our primary focus, as our priority is to avoid drawdown and uncovering vulnerabilities and risk. We also have great flexibility. There are about 600 issuers in our asset class so that we have enough to select from. If we don't like the management team that we're dealing with we can move on to the next."
Dreiman wonders how Deino reconciles the long-term dialogue he has with companies with the fact that his performance is often evaluated on a more short-term basis. "I have met most of our external managers to date, now," explains Dreiman, "and sometimes I see either directly or between the lines that they have deployed their ESG strategy either five years ago or yesterday. And they feel that they need time to let it sink in and have an effect on the fund overall, but we evaluate them on a much shorter time span."
"The two perspectives are compatible, actually," Deino replies. "If you look at our fund over the last three years, for example, we have delivered strong absolute returns, and reduced volatility. Looking at the information ratio, we are in the top quartile of our peer group. Unlike many of our peers, yield to maturity of our portfolio has generally been below the yield on the benchmark. We felt that there was too much risk in higher-yielding assets and not enough compensation ever since we began to see a QE-induced increase of flows into our markets, which has enabled us to avoid defaults. I would attribute that to our engagement with companies' management, and our understanding of the ESG aspects of the investments given our integration of ESG analysis into the process."
Scalability and capacity to execute is important. "As a fund or portfolio manager, it is also paramount that you evaluate the resources that you have at your firm and in your team." When you are looking at ESG, it is not just about writing a white-paper and launching a strategy because it's the flavour of the day. If someone wants to walk over and talk to your analyst about the process, you need to be able to demonstrate what you do on a consistent basis. Scalability is also crucial to making it work."
Read the rest of the report here.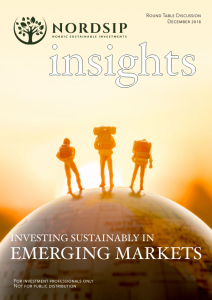 Image © Shutterstock