Listening to emerging market managers, I dream of adventure. I picture hot and humid days, dusty roads, amazing opportunities, but also cultural differences, communication lost in translation and corruption. Certainly, impact investors can find plenty of opportunities in such places to make a difference and improve the situation for populations whose basic needs are unmet. But beyond these 'for-profit charity' projects that are not in everyone's reach, what does sustainability mean in the Wild Wild East?
Even in Sweden, where large institutions have taken sustainable investment practices into accounts for at least two decades, SRI specialists still debate standards and measurements. Even in developed economies, ESG is far from black or white, nor green or brown. Investors need to take decisions based on nuances and make judgement calls with ambiguous data. How can such an inexact science be applied to emerging market? Moreover, can western investors, who are still struggling in defining their own limits, impose their criteria on less prosperous economies without falling into downright imperialism?
With the help of six seasoned investors, we discussed the everyday challenges of emerging market managers. We discovered where some opportunities lie, such as the ESG-related cost savings private equity ownership can extract or the downside protection ESG analysis provides emerging market debt investors. We also talked about how the right words can transform attitudes towards human right issues.
Data quality, management trust and educational gaps were some other focal points in the discussion. Feet-on-the-ground is therefore an essential item in any emerging market manager selection process.
When it comes to corruption, accountability doesn't start only when investing directly in emerging markets. Even European companies that conduct activities in emerging markets can be affected. Sometimes, refusing to engage in certain practices may impede regular business altogether. Companies, managers and investors need to draw lines. On the other hand, a clampdown on corruption may not always be motivated by honourable intentions, but to generate turmoil for opposite political factions.
Cultural differences may arise even between developed markets, in the simplest expressions of sustainable investing: exclusions. It is only natural that fund managers will adapt to their home country's demand, which may entail taking into consideration flagship industries, regardless of their involvement in controversial areas. Excluding weapons, for instance, may prove challenging when selecting a fund focused on the US or the French market.
The ambiguities we discussed here are what makes sustainable investing so fascinating. Unlike the neophyte may believe, SRI and ESG is indeed a matter for specialist. Not because the basic concepts are hard to understand, but precisely because of the necessity to act and decide between subtle shades.
Read the round table discussion here.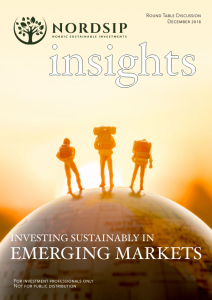 Image © Shutterstock