Volume growth of index products has been tremendous but ESG index funds or ETFs are still fairly new. You might argue that conviction based active strategies like ESG don't go very well with passive index-based investment products. The direct impact will be less concrete from an index product than from an impact fund but the clout from large index funds can certainly make a difference. We listened to four asset owners, that have come far in integrating ESG in their investment organisations, to hear what they say about passive ESG products. They have somewhat different investment styles and views on active vs passive but around one thing there is no difference of opinion; if you're serious about ESG, all investments have to be ESG.
As Susanne Bolin Gärtner, Head of Fund-selection & ESG External Funds at Folksam expressed it: "We have set the lowest level of sustainable criteria for all external funds, so the whole fund range has to be sustainable including "close to index funds" and systematic funds. First of all, we want to see that the fund company has signed UN PRI or is in the process of doing so. Then we also, of course, want to see how ESG is implemented in the fund process. Therefore, we do not offer any index-funds that do not consider ESG in any aspect. SPP Plus funds are a good example of what we offer today in this range."
At AP4, Tobias Fransson, Head of Strategy & Sustainability says that passive ESG strategies are used "both in systematic low-carbon strategies as well as more general ESG funds. We do it to enhance risk-adjusted returns and to contribute to the long-term development of markets and corporate governance practices, which we also believe are in the interest of our risk-adjusted returns".
For Peter Sandahl, Head of Sustainability at Nordea Life & Pension, lack of usage of ESG passive products is a question of investment philosophy, as he states "we do currently not invest in any passive ESG strategies. We do not invest in any passive strategies, we have a more active approach to our investments".
Kristofer Dreiman, Head of Responsible Investments at Länsförsäkringar, tells us that they "have investments in "close-to-index" equity funds that reflect their wish to exclude controversial weapons, companies involved in serious norm violations, and to avoid exposure to the most CO2-intensive fossil fuels in the form of combustion coal.
At Ålandsbanken, lack of client demand has limited the use of passive ESG products up till now, Anna-Stina Wiklund, ESG specialist, explains. "We have selected ESG ETF's to our range of recommended ETF's. Currently, they are available to all clients, we haven't however used them in broad discretionary mandates yet. The client demand has not yet been that strong, nor the conviction from the allocation team that we would replace a "traditional" ETF with an ESG-focused one.
Maybe is it so with passive ESG products that the manager is more important than the individual fund or ETF for reaching a positive result out of an ESG perspective. Gärtner of Folksam adheres to this view saying that "the big impact would be from the fund company as a whole rather than on a fund level" and Fransson of AP4 gives the following example: "a requirement can, for example, be to have an activist manager in Japan where the ability to influence boards and management in specific companies is of great importance."
Fransson believes that "corporate engagement is always imporant, but more so for active concentrated portfolios where there may be potential catalysts for value creation and where engagement will have a more significant impact on the portfolio due to portfolio concentration." It is easier for active managers to focus on the individual holdings in their portfolios and be in close dialogue with managements to engage. That said, the increased focus on size of and status of ESG investing combined with the massive amounts invested in different passive strategies, have put pressure on passive managers to act on ESG matters as well. As Sandahl puts it, "passive managers still have a fiduciary duty to fulfil and as ESG aspects are becoming a more integrated part of that duty, they would need to increase their engagement efforts and the tools available. At least, I think greater transparency would help create a better understanding of the approach taken by passive managers. An important part of the transition towards a low-carbon and sustainable economy is about redirecting financial flows. Passive strategies are a natural part of the investment universe today and could, if constructed in the right way, also be an important part of the future. That would however also require harmonised low-carbon benchmarks, which are under development by the EU as part of the European Commission's Action Plan on Sustainable Finance. But passive strategies should, as of today, be seen as a part of the toolbox together with actively managed ESG strategies and pure impact strategies."
The sheer size of passive managers and their actions has even, according to Wiklund, had a positive ESG-effect as "many investors have quoted big ETF-providers when they mentioned that they will exclude certain controversial sectors."
This article is part of the Handbook NordSIP Inights – Sustainable Indices and ETFs, which you can download here: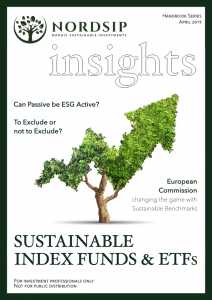 Featured picture © Shutterstock