by Rakhi Kumar, Senior Managing Director Head of ESG Investments & Asset Stewardship, State Street Global Advisors
For many investors the question is no longer when will they need to take steps to limit the impact of climate change on their portfolio — but how to do it effectively now.
At State Street, we've been studying this question for several years. We're already partnering with clients to help them actively address climate risk in their portfolios through active stewardship of their assets and by creating climate-focused investment strategies based on a robust data framework.
Aligning Portfolios and Climate Objectives
There are essentially three main investment approaches to incorporating climate risk:
Screening: Not investing in companies that are heavily dependent on carbon emissions or fossil fuel use, or avoiding industries with significant climate-related risk exposure.
Mitigation: Reducing the portfolio's exposure to carbon intensity, fossil fuel assets and "brown" revenue derived from extraction or power generation from fossil fuels, as well as increasing exposure to companies that generate "green" revenue from low-carbon opportunities.
Mitigation and Adaptation: In addition to reducing exposure to worse-than-average carbon emitters and "brown" revenue and increasing exposure to "green" revenue, tilting the portfolio toward more environmentally resilient companies and ones that are adapting their long-term strategies to account for their exposure to climate risk.
Of these three approaches, combining mitigation with adaptation is the newest frontier in climate investing. Investors are looking for more information from companies about how they are adapting their business strategies to accommodate the impact of climate change and the transition to a lower-carbon economy.
This transition will create both opportunities and challenges, so any investment strategy looking to address these will have to be more diversified in its inputs, and thoughtful in its construction, than simpler strategies that target carbon reduction alone.
Building Practical Solutions
Start with Asset Stewardship
Any action taken to address and disclose climate risk involves the broader concept of asset stewardship — actively engaging with portfolio companies on climate risks and opportunities. As the world's third-largest asset manager, we're committed to partnering with our clients to help them align their portfolios with all of their investment objectives and regulatory requirements. That's why we have made stewardship related to ESG issues a cornerstone of our approach to asset management.
Specifically, we use our influence — our voice and voting power — to encourage corporate boards and management teams to proactively address climate-based issues that could harm or improve long-term performance. We also study how climate change affects specific investment sectors, such as we outline in an upcoming paper examining the impact of climate disclosure on agriculture and forestry.
Don't Just Avoid the Risk, Target the Opportunity
Forerunners in the climate space are using mitigation/adaption to not just avoid future risk but to actively target future opportunities. They're looking to profit from the next-stage world where a combination of future regulation and changing consumer preferences will result in a very different landscape where companies will have to evolve and potentially change their operational models.
Investors should be looking at companies that are not just window dressing or coping but actually positioning to take advantage from a less carbon-intensive economy.
Work with the Right Data
One of the key problems for ESG investors is data. There is data, and plenty of it, but that data is often inconsistent, some of it low quality or stale and there are gaps.
We knew that for our solutions to work well we'd need to build an effective data framework. We've done this by taking best-in-class data inputs from some of the industry's leading sources then cleansing and building on them in a comprehensive, effective data framework.
Our ESG and climate data platform brings together carbon and environmental metrics from multiple data providers such as company-reported greenhouse gas emissions, "green" and "brown" revenues, and company adaptation readiness to climate change.
This data supports State Street's extensive research in equity and fixed income portfolio construction — whether actively or passively managed — that can be applied to screening, mitigation and adaptation. Our approaches are backed by science-based targets established by the Intergovernmental Panel on Climate Change to limit increases in global temperatures to fewer than 2 degrees Celsius above pre-industrial levels.
Be Clear, Be Systematic
Our climate sustainability solutions are built on our robust data framework that effectively quantifies the relevant criteria, they target clear climate criteria and they optimize within those clear criteria.
It is backed by science-based targets established by the Intergovernmental Panel on Climate Change to limit increases in global temperatures to fewer than 2 degrees Celsius above pre-industrial levels.
We are able to filter out only the highest conviction candidates as the basis of our solutions. The result is solutions that are systematic and rules-driven, and that can achieve their climate aims and produce investment results.
Optimize for Success
Implementing a successful sustainable climate strategy requires addressing a more complex problem than simply avoiding the worst offenders. More complex problems require more sophisticated solutions.
We know from our factor investing experience that when you have multiple criteria where individual objectives might sometimes conflict that a well-considered optimization makes for better outcomes.
For example, we've recently used this optimization approach on a substantial portion of a client's portfolio to successfully reach a different environmental aim — to reduce the carbon emission profile of its assets by 70% via an equity index strategy. Slightly different aim but common portfolio construction tool.
Our climate strategy solutions employ optimization to ensure that we balance exposure across five key metrics, resulting in an optimized high-impact portfolio.
Meeting the Climate Investing Challenge
Our solutions allow us to overweight companies that not only are mitigating climate risk today by cutting down on emissions but also those companies that are adapting for future climate risk implications.
On the mitigation front, we wanted to integrate aspects related to carbon-related emissions from production, suppliers, and fossil fuel reserves. On the adaptation side, we wanted to address the future opportunities associated with the low-carbon new energy economy and green revenue.
The end result is solutions that achieve meaningful reductions in targeted climate-related exposures coupled with significantly increased exposure to green sector and low-carbon revenues, helping asset owners truly prepare their equity portfolio for the transition to a low-carbon economy.
This article is part of the Handbook NordSIP Inights – Sustainable Indices and ETFs, which you can download here: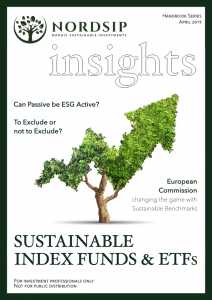 Picture © Shutterstock
DISCLAIMER
Marketing Communication. For Professional Clients Use Only.
The information provided does not constitute investment advice as such term is defined under the Markets in Financial Instruments Directive (2014/65/EU) and it should not be relied on as such. It should not be considered a solicitation to buy or an offer to sell any investment. It does not take into account any investor's or potential investor's particular investment objectives, strategies, tax status, risk appetite or investment horizon. If you require investment advice you should consult your tax and financial or other professional advisor. All material has been obtained from sources believed to be reliable. There is no representation or warranty as to the accuracy of the information and State Street shall have no liability for decisions based on such information.
State Street Global Advisors Belgium, Chaussée de La Hulpe 120, 1000 Brussels, Belgium. T: 32 2 663 2036. F: 32 2 672 2077. SSGA Belgium is a branch office of State Street Global Advisors Limited. State Street Global Advisors Limited is authorised and regulated by the Financial Conduct Authority in the United Kingdom.
The views expressed in this material are the views of SSGA Investment Strategy through the period January 1, 2019 and are subject to change based on market and other conditions.
This communication is directed at professional clients (this includes eligible counterparties as defined by the [Financial Services & Markets Authority (FSMA)] who are deemed both knowledgeable and experienced in matters relating to investments. The products and services to which this communication relates are only available to such persons and persons of any other description (including retail clients) should not rely on this communication.
The information contained in this communication is not a research recommendation or 'investment research' and is classified as a 'Marketing Communication' in accordance with the Markets in Financial Instruments Directive (2014/65/EU) or applicable Swiss regulation. This means that this marketing communication (a) has not been prepared in accordance with legal requirements designed to promote the independence of investment research (b) is not subject to any prohibition on dealing ahead of the dissemination of investment research. Investing involves risk including the risk of loss of principal. The whole or any part of this work may not be reproduced, copied or transmitted or any of its contents disclosed to third parties without SSGA's express written consent. © 2019 State Street Corporation. All Rights Reserved. 2416405.1.1.EMEA.INST Exp. Date: 02/28/2020.