For asset owners, like for the rest of the industry, the journey into sustainable investing started to a large degree with exclusions and norms-based screenings. That was a while ago. Nowadays, at least in the Nordics, most institutions have established exclusion policies and review them on an ongoing basis. Selling off a couple of stocks here and there no longer triggers any particular debate. What has become obvious to many, however, is that exclusions may not remedy climate change, at least not fast enough, unless perhaps the majority of all asset owners and institutional investors act in concert and chase the same "villains" together.
Peter Sandahl (pictured), recently appointed Head of Sustainability at Nordea Life & Pension, is asking questions in a deliberate and relentless way. While he may not possess all the answers yet, he focuses on a series fundamental issues which, if they could be cracked, would revolutionise the investment world as we know it. While he has been working at Nordea in different capacities for more than ten year, Sandahl has also engaged personally in raising awareness of the impact of climate change in the Alps through a charity called Climb for ClimateTM. This personal commitment has increased his own sense of urgency. It boosts his energy to drive change, as well as his ability to provide a critical analysis of the situation in the financial industry.
We asked Peter Sandahl how Nordea Life & Pension approaches questions such as portfolio decarbonization and impact investing. "Do we want to ignore carbon emitters, or do we want to be part of the energy transition?" he asks. "That's the question every pension fund should find an answer to." Put in those words, the idea of participating in positive change sounds appealing, of course. The question may have subtle implications, however.
There may be (at least) three reasons to exclude fossil fuel-related or carbon-heavy investments. Ethically, an organization may want to distance itself from profiting from activities that are obviously damaging the environment. This is an idea that end-savers and future pensioners often associate with. Beyond that, businesses that are unsustainable from an ESG perspective may also prove less profitable in the future, and hence are better avoided, purely from risk/return maximization angle. The final and most debated argument is that, if all the large asset owners in the world divest from the most polluting stocks, these companies' cost of capital will increase to a point where their business will become less profitable, providing them with an incentive to change.
Meanwhile, counter-arguments to divesting from an entire industry weigh at least as much. Unlike isolating a few black sheep, excluding an entire portion of the economy such as oil majors or other carbon-heavy sectors necessarily has implications on near- and even medium-term performance. The same way investors need to "keep dancing" even when they know they are in a financial bubble, today's asset owners have a hard time turning their back on a profitable industry.
Sandahl highlights that keeping carbon in portfolios may be the only way to turn the world's carbon-equation around. "If we look at the amount of capital that needs to be deployed in order to generate innovation and deploy new solutions, there is no way we can rely solely on niche players or new startups. As asset owners, we need to get the large companies in the tent, deploying their billions, infrastructure and expertise into the transition towards a low-carbon economy. In most cases it will mean that they will have to turn their business around completely. As long-term investors, we have a duty to be involved. We shouldn't just decarbonise through exclusion and feel like we have solved our problem."
Many responsible investors believe that active ownership and corporate engagement is the appropriate way to help them find the right transition path. "While I do believe that engagement can be incredibly effective, it cannot be the only answer," Sandahl adds. "At Nordea, we have driven our fair share of engagement on our own. This is how I know that, in order to be effective, active ownership is extremely resource intensive. Investors need a lot of time, people and expertise to drive change effectively. It is also an area where it is very easy to make it sound a lot better than what you accomplish on the ground."
In a pure investment perspective, we should perhaps equate the carbon transition to an industry in disruption, where the necessity of change is not so much driven primarily by the innovation of new entrants, as it often is, but by the external pressure from our planet's ecosystem. Take the telecommunications industry as an analogy. The business conditions and competitive landscape for both carriers and phone manufacturers underwent a radical change in the last three decades. What, if anything, could we learn in hindsight from the investment cases of this period, and apply it to the carbon transition?
We would not be able to talk face-to-face with someone one the other side of the world, while sitting in the middle of a park, if carriers hadn't invested massively into providing the network coverage we need, and not only once. Today's players may look very different from those who provided our parents with their fixed telephone lines. The transformation wasn't painless and has certainly benefitted some more than others. In the development of mobile devices, the corpses left behind by a failed transition are even more spectacular. Think about Nokia and Research in Motion, which once qualified as the leaders and are now nearly relegated to museum pieces. If Apple can be considered as today's market winner, it would have been impossible to guess in the late 90s that it would one day take over the mobile phone market. Riding Nokia's bubble made sense, until it didn't. To benefit from the transition, an investor had to be plugged into the market, remaining vigilant and nimble. Surveying data was part of that process. The entire tech market was (and still is to a great extent) stirred by analyst projections and quarterly figures, whether they were EPS or RPU (revenue per user, a crucial metric in telecom).
"We need data," says Sandahl. "Otherwise, we have nothing to base our decisions on. We also need to make projections and scenario analysis. The problem is that data is imperfect, and projection models even more so. For that reason, we often tend to find excuses not to use them until we can validate it to the same extent as financial performance, for example. I believe we need to work even more together as an industry rather than institution by institution and use what is currently out there, even if it only takes us half-way there. At least we would have something to improve upon, and we would all be pulling in the same direction."
Sandahl's point would resonate with any old tech investor. There is nothing less perfect than a P/E ratio to value a growing company, as it only considers the potential earnings in a discrete period, but few tech investors would consider taking a decision without it.
"We need numbers today, so that we can ask for accountability and drive an increase in transparency," Sandahl adds. "Today measuring the carbon footprint of major oil companies will not give us an accurate sense of how they are participating in the transition."
Sandahl applies the same logic to fund managers. "At the moment, we need fund managers to show that they do what they say they do. Traditional funds show us their performance figures, and we can see if they behaved the way we expected them to. It doesn't mean that we can rely on past performance, but at least we have a tool that serves as a basis for discussion. They can explain why and how they produced their financial returns, and we have an insight into their logic."
The hedge fund industry provides yet another interesting analogy to this accountability conundrum and shows why evolving data is likely to drive transparency. In the 90s, hedge funds stood out as they showed outstanding performance compared to traditional investments. In the following two decades, quantitative analysts got busy deconstructing this performance. Today, we understand well that a large part can be explained by leverage, which can represent a significant increase in downside risk, as well as alternative risk factors, that can easily be replicated at a low cost. The managers' skill represented by the elusive "alpha" is in fact much rarer than it first seemed.
In this carbon transition, systematic strategies like ETFs and Index funds definitely have a strong role to play, but, at least for Sandahl, a broad exclusion of carbon isn't the answer. Asset owners, like Nordea Life & Pension must be able to decide once and for all where they stand, so that they can demand that the bar be pushed higher. The asset managers, on the other hand, should pick up the gauntlet and drive the development of better data, to show their investors how their capital can drive change.
This article is part of the Handbook: NordSIP Insights – Sustainable Index Funds & ETFs
Read the rest here: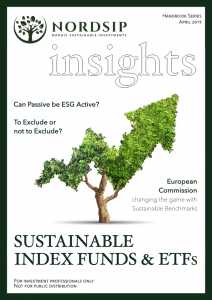 Picture NordSIP based on Pixabay