Stockholm(NordSIP) – "Markets are not prepared for a forceful policy response to climate change," warned Thomas Kansy, Principal at Vivid Economics, during one of the panel discussions organised by the PRI at its Nordic Forum on February 4. "The policy response is not priced into the markets," he warned.
Despite this failure to react on the part of the market, Kansy argues that a forceful response is inevitable in the near-term, as governments continue to wake up to the dangers ahead posed by climate change. It was this issue which the panel sought to address during this discussion.
Preparing for the Inevitable Policy Response
To deal with the market's failure to anticipate a forceful policy response, Vivid Economics has joined forces with the UN PRI and Energy Transition Advisors (ETA) to develop the Inevitable Policy Response (IPR), a framework to help investors prepare for this coming paradigm shift.
"The purpose of the IPR is to fundamentally re-direct the expectations, actions and disclosure reporting of both private and public actors toward a business planning world in which our forecast, which involves significant economic disruption, can replace the International Energy Agency (IEA) New Policies Scenario (NPS) as the go-to base case," Kansy explains. The problem, he explains, is that the IEA NPS scenario is not consistent with the commitments made in Paris in 2015.
With growing awareness and momentum focusing on fighting climate change takes shape, "the IPR forecasts a response by 2025 that will be forceful, abrupt, and disorderly because of the delay," Kansy adds. This timing is motivated by the timeline of the Paris agreement, which foresees countries submitting their 3rd round of climate pledges by 2025, following a global stocktake on climate, mitigation and finance in 2023.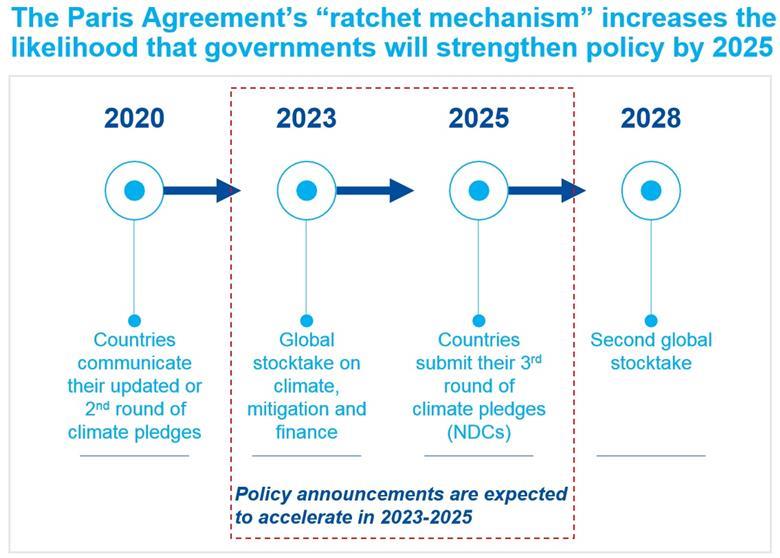 "The key question for investors is when this response will come, what policies will be used, and where the impact will be felt." To address these concerns, the IPR developed the Forecast Policy Scenario (FPS) to model the effects of the policies looming over the horizon. Contrarily to many other models, "the IPR forecast is primarily aimed at demonstrating latent risk in investor portfolios." As a result, the FPS "differs from climate scenarios by working up from probable policy and technology developments, rather than working back from a pre-defined target temperature."
According to Kansy, there are three main conclusions of the FPS. First, the tool shows profound and rapid changes in the energy system. Oil will peak between 2026-28, Thermal coal will be virtually non-existent by 2040 and renewables will generate approximately half of all electricity by 2030. The FPS also shows that electric transport will represent 70% of passenger vehicles in 2040, thanks to ICE sales banks, falling costs of electric vehicles (EVs) and the rapid deployment of "ultra-low emissions vehicles. Finally, the model suggests that there will be major changes in land use, including the virtual elimination of deforestation by 2030."
According to the presentation, the model provides concrete estimates of how these changes will affect financial markets. "The analysis shows that these critical policies could permanently wipe between 3.1% and 4.5% or $1.6 trillion to $2.3 trillion off the valuation of a range of companies in the MSCI ACWI index, depending on the timing of repricing," Kansy explains. "One in five companies are impacted by at least 10% in either direction."
Sadly, the result also shows that even with this forceful policy reaction and a ratched up reform agenda taking shape after 2025, global efforts will fail to meet the Paris Agreement goals. This is due to a lack of coordination, the slow adoption of carbon capture and storage technologies and continued meat consumption.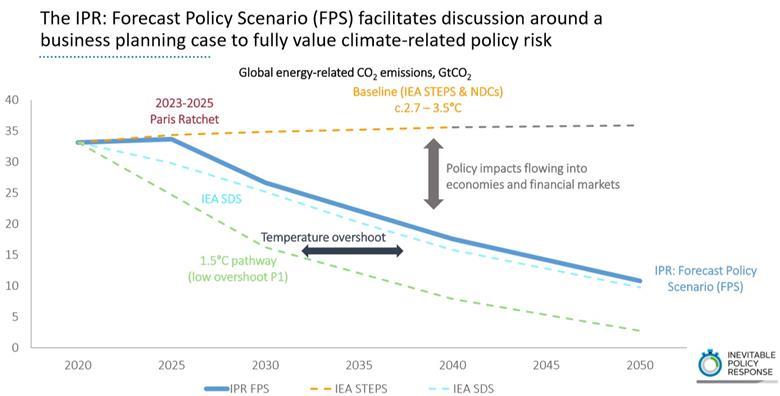 Riksbanken's Exclusions
Despite this bleak scenario and reform delays, some institutions have begun taking some action. Riksbanken is a case in point, according to a presentation given by Heidi Elmér, Head of the markets department at the Swedish central bank. In the context of its mandate to manage financial risks and maintain price stability, Riksbanken has decided to take some tentative steps through the assets it holds for foreign exchange reserve purposes. As NordSIP reported in November 2019, Riksbanken has sold off holdings of bonds issued by the Canadian province of Alberta and the Australian states of Queensland and Western Australia. At the time, we noted that Alberta's fossil-fuel-based energy industry represented over a quarter of the province's GDP, in 2016, while Queensland and Western Australia are home to some of the world's largest coal, bauxite and aluminium extraction operation.
According to Elmér, there was minimal reaction from the issuers or their national governments. On aggregate, the head of markets noted that other central banks from the Network for Greening Finance were neutral to the decision. However, the decision did reverberate with the media, she explains. Perhaps more telling of the challenges ahead was the response of the monetary policy official regarding the central bank's holdings of US government bonds at a time the White House is occupied by a climate change denier. "We need to have them in our portfolio for liquidity reasons, which is the paramount mandate," Elmér admits, referring to the fact that the US dollar is the reserve currency of the world. "There's no way to apply this to US bond holdings."
Local and Fact-Based Approaches
The other two members of the panel put forward their own views of the issue. According to Hans Forsmann, Senior Investment Manager for Infrastructure and Private Equity at Skandia, "climate change is a global problem that needs local solutions." According to the investment manager, there is a tendency to impose top-down solutions both at the national level as well as at the European level.
Difficulties with electricity transmission in Southern Sweden and with moving away from coal in Poland offer good examples of central authorities ignoring specific local conditions. "Poland has abundant coal resources. They are not going to ignore them. Doing so would create a great deal of upheaval in the Polish economy."
"We don't know where policy will go, but it will be regional, and the timings will vary. It will be faster in Sweden and Norway than in Poland. Countries like Sweden should focus on showing the way rather than imposing their own solutions on other countries," he concludes.
Speaking last, Emelie Westholm, head of responsible investments and corporate governance at Folksam, the Swedish insurance and pension cooperative has "struggled to find a clear climate focus. We did a lot of investments and our first TCFD report came out last year, but we've struggled." She took the opportunity presented by the panel discussion to discuss the general philosophy behind sustainability.
"When our industry started with exclusions – what we called ethical investing – we did so not because we thought it would put an end to the activities of those companies but simply because we did not want to give them our money. Ethical investment approaches such as this are value-based," she explains. "However, we should not think of climate exclusions in the same way as ethical investments. Climate change is not value-based. It's fact-based. It's not good or bad. It's bad for everyone. All companies are affected," she added.
"My hope is that in 2050 (when our portfolio should be net0) is that we will have made a real impact on the economy. I hope we won't still be talking about achieving net-zero emissions for the whole country. I hope that'll be a fact," she says, before adding that she hopes other investors "don't just focus on climate. Don't forget about human rights and corruption."
Image © NordSIP