Stockholm (NordSIP) – Länsförsäkringar announced that its investments in green and sustainable bonds tripled in 2019, from SEK3.2 billion at the start of 2019 to approximately SEK9.5 billion at the end of the year.
Länsförsäkringar provides non-life insurance, banking, unit-linked life assurance, and traditional life assurance products and services in Sweden, Norway, Finland, Denmark, and the United Kingdom. Länsförsäkringar Fondförvaltning, the asset management arm of the insurance company, reported SEK140 billion of AUM at the end of 2017 and launched its sustainable strategy in 2013.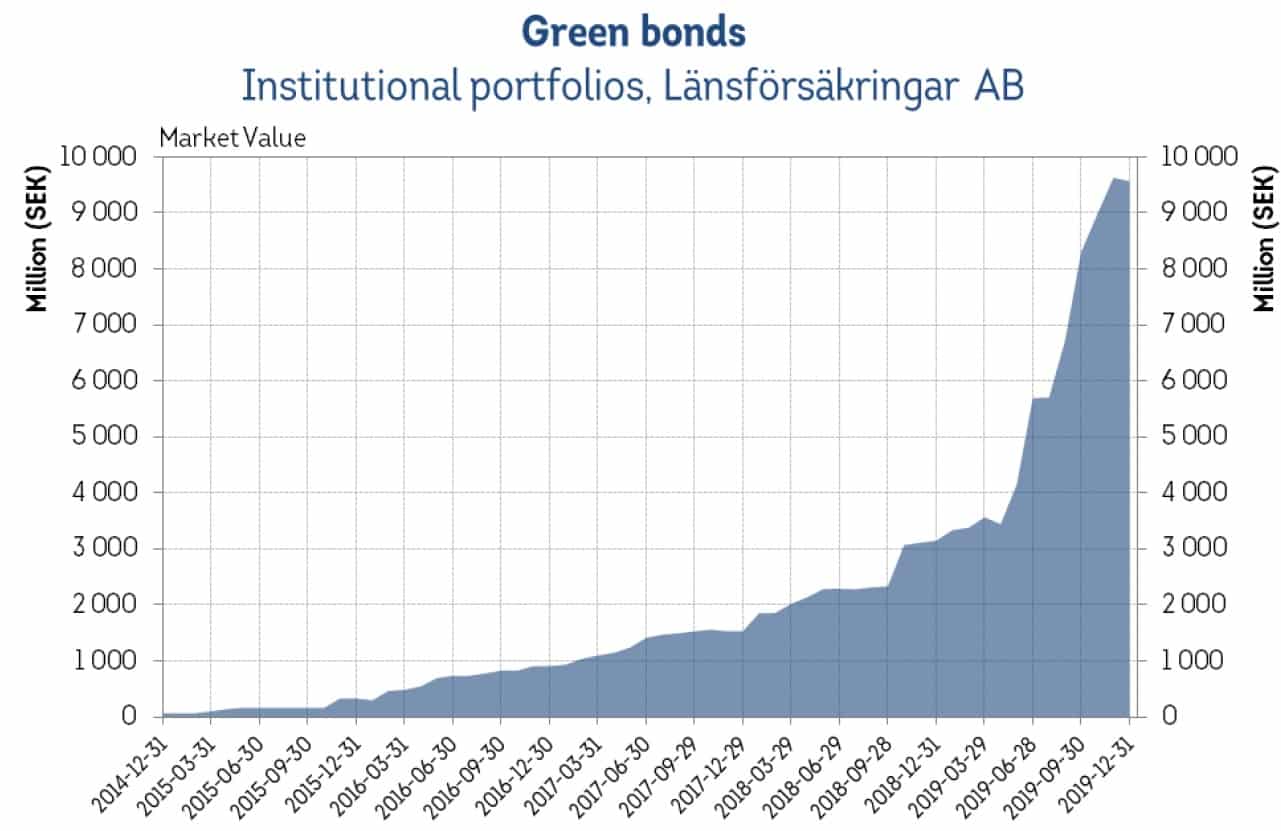 "Our own portfolios now contain over 70 companies (issuers) of green bonds and are part of our efforts to achieve our climate-smart vision. The vision means that our portfolios must be in line with the Paris Agreement's goal of limiting global warming to 1.5 degrees by 2030. The investments in these bonds also contribute to several of the UN's global goals," says Kristofer Dreiman, Head of Responsible Investment at Länsförsäkringar AB.
The total value of green bond holdings is equivalent to more than 7% of total assets under management, at year-end, according to Länsförsäkringar. The complete list of approximately 70 issuers includes names such as the African Development Bank (AfDB), Apple, Citigroup, Danone, , the European Investment Bank (EIB), the MIT, Iberdrola, KfW, Volvo, Verizon, the World Bank's IBRD and IFC and a number of Swedish municipalities, among others.
Länsförsäkringar maps its green and sustainable bonds to the UN Sustainable Development Goals. The most prominent SDGs Länsförsäkringar focuses on are SDG 13 (fight climate change) followed by SDG7 (renewable energy) and 11 (sustainable cities and communities).
"We have a clear ambition to increase the proportion of climate-smart investments," Dreiman added. "The rapid move in 2019 has been possible as we increasingly make our own direct investments in green bonds in the primary market. Since we have strengthened and focused the management towards this market, we have also been able to positively affect the return."
Global green bond issuance reached US$263 billion in 2019, a 40% increase from 2018. Swedish borrowers continued to be the Nordic driver, doubling green bond issuance in 2019 to SEK133 billion.
NordSIP last reported on Länsförsäkringar, when it updated its exclusions and transition lists, to blacklist Aramco and PetroChina among others, while upgrading Fortum and OCI for having reduced their revenues from coal power generation to less than 5% of the total.
Image © NordSIP