Stockholm (NordSIP) – Green bonds started 2020 promisingly. In mid-February, global green bond issuance was up 14 per cent compared to the record year of 2019. However, due to the pandemic, market flow had fallen below 2019 figures by the end of March. At US$118 billion, global green bond issuance fell 11 per cent by the end of the first half of 2020 in comparison to the US$133 billion witnessed in the same period of 2019.
Hopes for a Record Green Bond Year
Nevertheless, we understand market participants remain hopeful for another record-breaking year in green bond markets. Many issuers are eying inaugural deals in the green bond market for the second half of the year.
Germany might raise an astonishing €12 billion (US$13.5 billion) in H2, while he Government of Sweden is looking to issue SEK20 billion (US$2.2 billion) in August. Among corporates, Daimler, as well as Ghelamco, have both announced green finance frameworks. The governments of Austria, Denmark, Italy and Spain might be ready to issue green bonds in 2020. Repeat issuers such as Poland, Hungary, KFW, Nigeria and several other organisations are also expected to come to the green bond market.
Social Bond Explosion
COVID-19 raised the profile of social bonds and other pandemic funding structures that can be used to channel funds to alleviate the pressure created by crises. The labelled social bond market grew by 435 per cent in H1 2020 (USD 40bn) vs. H1 2019 (USD 9.2bn). Hundreds of billions of dollars have been issued in bonds aimed at addressing the pandemic.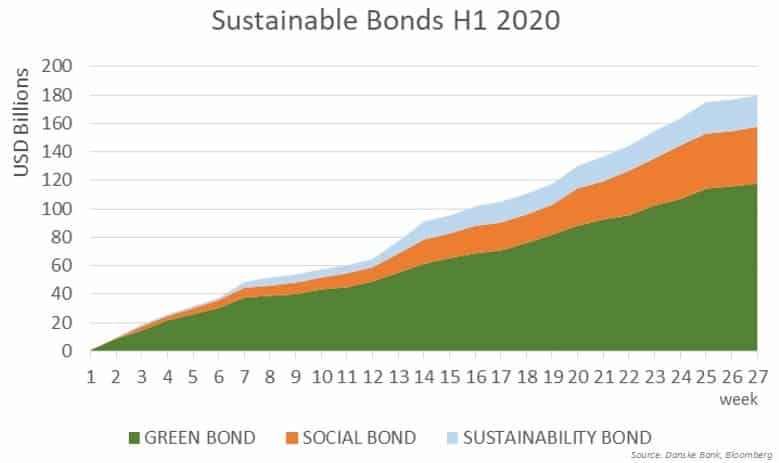 These securities were unusual in that the urgency of the cause and the novelty of the format conspired to create poorly documented debt products, leading most issuers to include just some text mentioning the social purpose of the bond and its relationship with the pandemic. Others developed a framework but no social bond label, as was the case with the NIB's response bond. Some, of course, were able to use pre-existent labelled sustainability bond formats, as was the case with the EIB's sustainable awareness bonds and others' social bonds.
Record First Half for Sustainable Bonds and Euro Green Bonds
Including all labelled sustainable bonds (green, social and sustainability bonds), the market did see a 7 per cent increase in H1 2020 (USD179bn) vs H1 2019 (USD167bn). Historically green bonds have made up some 90 per cent out of sustainable bond issuance. However, in H1 2020 this structure only represented 65 per cent of the overall market. 
The European currency remains the dominant channel for green bond funding. Cumulatively, Euro issuance since the EIB issued its first green bond in 2007 makes 44 per cent of all issuances. In H1 2020, the currency's share represented 52 per cent of the market. US Dollar remains the runner up currency with a third of the market share, followed by Chinese yuan's (CNY) 7 per cent and Swedish Krona's (SEK) (SEK) 5 percent. We expect this diversification to continue due to the strong green Euro investor base, which also shows in the existing and predicted sovereign green bond issuer community.
Given the currency's dominance, it is not surprising to find the top 10 green bond issuers of H1 2020 also originating from the old continent.
Oversubscription and Greenium
Between March and June, there was a substantial increase in demand, with Euro green bond orderbooks vis-à-vis normal bonds. Due to this excess demand, there were large negative new issue premiums (greenium) in May and June, once the worst of the crisis had passed.
Although green bond issuance during that window is not large enough to allow for statistically significant insights, the data does provide some hints of the effect of the crisis on demand and on green bond market conditions. In April, the Climate Bonds Initiative presented a Danske Bank sponsored Green Bond Treasurer survey 2020. According to the survey, 98 percent of Treasurers saw new investors and that 70 per cent found that the demand for green bonds was higher than for traditional bonds, underlining the outcome of the graph.
Nordic Green Bond Activity
Although Swedish Krona remains the major green bond currency of the Nordics, it took a major 45 per cent step back in H1 2020 (SEK46 billion) vs. H1 2019 (SEK85 billion), returning to levels consistent with H1 2018 and H2 2019. However, there is still time to break the full-year record of 2019 (SEK133 billion) as many issuers have postponed issuance due to the pandemic. To this extent, there is some hope that the Swedish government's announcement of a SEK20 billion offering in August might restart the market.
Issuance in Norwegian Krona (NOK) also had a tremendous start to the year, with NOK15.5 billion of issuance almost at par with all of 2019's issuance. The market welcomed new issuers such as Statnett and Grieg Seafood, as well as repeat issuers such as Ferde, BKK and NorgesGruppen and international issuers such as EIB and Vasakronan.
The Danish market only saw some issuance from EIB and the World Bank. From Finland, we only saw Stora Enso issuing in Swedish Krona. In line with Sweden's government bond issuance, much attention has also been drawn to Denmark's potential new green bond, particularly its novel structure that splits green certification from the cash flows.
Sustainability-linked Bonds (SLB)
In June, ICMA introduced the Sustainability-linked Bond Principles. This is the newest addition to the sustainable bond family. Opposite to green, social and sustainability bonds with dedicated use of proceeds, the SLB is a general corporate financing mechanism. The SLB is a complement to the existing sustainable bonds for many companies in transition or for those that don't have a specific green asset. It allows them to use internal sustainability KPIs linked to the bond coupon payments instead of financing specific projects or assets. Typically, an issuer would link a coupon step up to e.g. a CO2 reduction target for their entire operations.
Pure green bond investors have raised concerns as they prefer use of proceed products, with a clear statement of what green projects the funds will be channelled towards. However, more general sustainability investors view this product as a chance for all issuers to improve and be transparent with their transition and as providing financial incentives to stick to their commitments.
Nordic Dealers
The strength of the SEK market and the Nordic banks' contribution to the EUR, NOK, DKK and USD allow two Nordic banks, Danske Bank and SEB, to stand out and throw their weight among the top twenty bond managers. Danske Bank was the dominant Nordic dealer inH1 2020, with the equivalent of USD7.8 billion arranged and a league credit of USD2.6 billion Danske Bank ranks as number 17 globally.
Danske Bank is the top Nordic arranger of social bonds, followed by SEB, which dominates in green bond, followed by Danske Bank and Nordea.
Conclusion
At the end of 2020, Danske Bank predicted green bond records to be broken as the trend from 2019 was extremely positive with many impactful issuers, such as Germany, likely to tap their toes. However, the pandemic put a spanner in the works.
"The market has been functioning, but has been very challenging at times," explains Lars Mac Key, Head of DCM Sustainable Bonds in Danske Bank. "We had expected cumulative issuance since the inception of the market to break the US$1 trillion mark by the summer of 2020, but the crisis caused it to fall short of that threshold by US$23 billion. However, the fact that social and sustainability bond makes up 35 per cent of all sustainable bonds issued was truly surprising. These months have opened investor's eyes for sustainable products beyond green."
"Despite the slow-down in issuance, orderbook sizes and greeniums underline investors' willingness to continue supporting the product. The rise in orderbooks and greeniums during these worrying times, may suggest that green bonds are viewed as even more relevant in troubled times. With new sovereign issuance and many issuers on pause for the first six months of the year now gearing up for the second half, I expect we'll see a record year in green bonds 2020, with voluminous issuance in the second half of the year, leading cumulative issuance to break through the US$1 trillion market before the year's end," Mac Key concludes.
Image by Alexas_Fotos from Pixabay