Stockholm (NordSIP) – At its annual media conference on November 24th, Schroders argued that its sustainable investment journey had matured into impact. During the event, Schroders CEO Peter Harrison put forward the idea of impact-adjusted profits, whereby investors weigh their returns up or down depending on whether it is also helping society transition towards a more sustainable development path. This concern is reflected in the products that Schroders offers its clients, particularly its most recent offering, ThemEx.
"In our journey of integration of ESG over the past few years, the focus had been on understanding ESG risk and opportunities," Carolina Minio-Paluello (Pictured, left), Schroders' Global Head of Product, Solutions & Quant, said further elaborating on the CEO's point. "In the next phase, the focus is in understanding the impact of our investments. Bringing impact as a third dimension alongside risk and returns means we can now link impact to risk: where companies have a negative impact on society, this is increasingly being translated into financial costs which can influence their long-term growth prospects."
The BlueOrchard Connection
Schroders' increased focus on impact investing can be traced back to at least July 2019, when the British asset manager announced the acquisition of a majority stake in Zurich-based impact investing asset manager BlueOrchard. BlueOrchard has invested more than US$6 billion in over 475 institutions across 80 countries since it was founded in 2001.
"For nearly 20 years BlueOrchard's vision and mission has been focused on reducing poverty and protecting the planet, while providing attractive returns for investors," Maria Teresa Zappia, Chief Impact Officer and Deputy Chief Executive Officer, BlueOrchard, commented (via video conference). "Measuring impact has been at the core of our activities. As pioneering impact investors we look forward to supporting Schroders on their journey towards integrating impact in their investments."
Zappia described the "ABC" framework of impact investing, which explains the guiding principles of impact investing. According to the framework, investors should Act to avoid  harm, Benefit stakeholders and Contribute to solutions. The Contribution part of the framework is where we really specialise," Zappia explained highlighting the importance of intentionality and having "very specific impact goals" and of measurements to assess the impact success."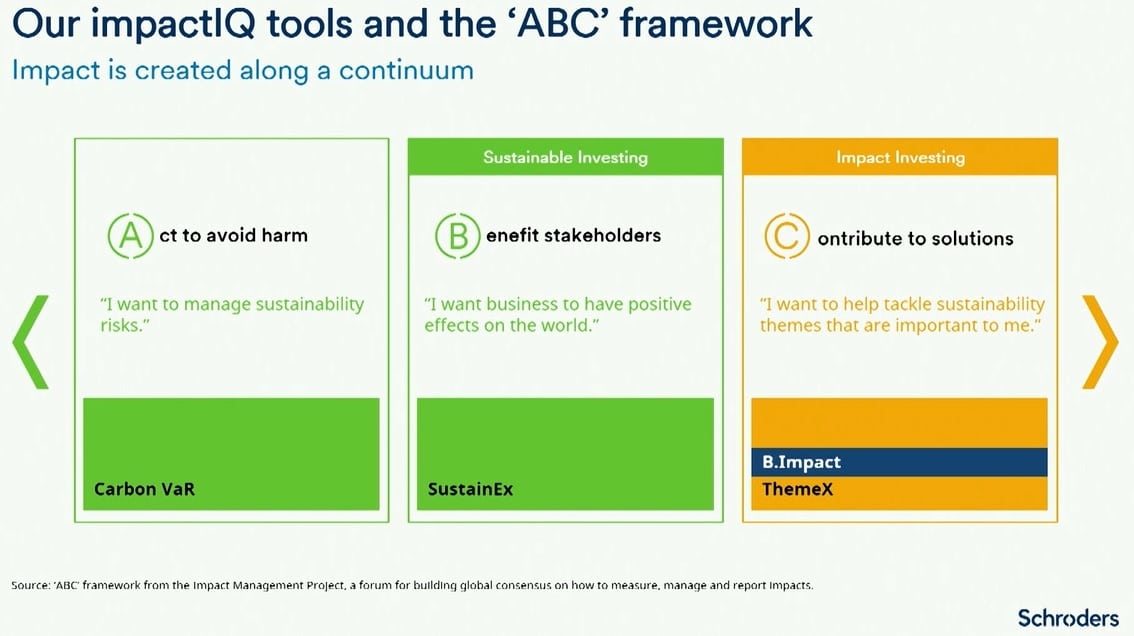 Schroders has matched its sustainable investing approach to each of the aspects of the ABC framework. The Carbon VaR tool allows investors to manage sustainability risks and avoiding harm. The SustainEx service measures the positive and negative effects that a business has on the world, so as to clarify the wider benefit of a portfolio to stakeholder. Finally, the new ThemEx product helps clients choose their investments by focusing on the sustainability themes that are best suited to them.
Measuring Impact with ThemEx
The conference was also an opportunity to hear more about Schroders new service, ThemEx, a tool Schroders is developing to bring a similar level of objectivity, scale and analytical robustness as SustainEx, according to Howard. ThemEx will allow Schroders' investment teams to map companies' contributions to the UN Sustainable Development Goals (SDGs).
"Both SustainEx and ThemEx are about taking a logical framework, and applying data and analysis to obtain a consistent measure that can be applied to large numbers of companies and portfolios," Andy Howard (Pictured, right), Schroders' Global Head of Sustainable Investments.
"Active ownership has always been an important part of how we think about our role at Schroders," says Howard. "That focus will be more important than ever as the pressures on companies to adapt to the changes shaping their industries intensify.  We are putting more focus on clarifying what we expect from companies, and ensuring we're holding them to account."
The importance of the UN SDGs cannot be overstated. (22:40) According to Schroders' Institutional Investor Study 2020, respondents' sustainable investments were mainly driven by concerns about climate action (SDG13), infrastructure (SDG12), good health and well-being (SDG3) and decent work and economic growth (SDG8).
"Over the last 20 years we have been able to support 13 of the 17 SDGs," Zappia  says. "But overall,  the idea is also to offer clients, be they individuals or institutions, with investment strategies that actually speak to them," she adds.
"The ability to help our clients understand what exposures they have today is a vital starting point. With ThemEx we can delineate and define the degree to which individual companies are exposed to different thematic trends. ThemEx allows us to look at our clients' portfolio and assess how all of the assets are positioned relatively to sustainability themes and solutions," Howard explains.
"Our clients, the companies we invest in and the rest of society need to come together to try to tackle the common problems we all face," Howard concludes.