This article is part of NordSIP Insights – Sustainable Fixed Income Handbook. Read or Download the entire publication here.
The growth of the exchange traded fund (ETF) market has simplified access to diversified investment opportunities and created more ways to build ESG integrated portfolios. At the end of June 2020, the global sustainable ETF market counted almost 400 products with more than US$100 billion in assets under management (AUM), according to UBS ETF analysts Davide Guberti and Philippe Kybourg1.  This represents an almost eight-fold increase in the number of funds since 2015 and a 400% increase in AUM during the same period.
Often times, the appeal of sustainable (ESG) ETFs lays in their positive social and environmental impact. Additionally, ESG ETFs may possess the ability to provide better returns while better mitigating downside risk than standard non-ESG ETFs. Recent research finds evidence in support of this hypothesis, but also that ESG fixed income indices can be built to provide investors with defensive opportunities for excess returns in times of rising spreads.
ESG Outperformance
One of the main engines of the growing demand for ESG products has been the emergence of evidence supporting the hypothesis that they provide a better risk return trade-off than standard investments. A recent comparison by UBS' Guberti and Kybourg shows that the same holds true when a ESG ETF portfolio is compared with its traditional core version.
The analysts designed two portfolios made up of 56% fixed income securities. Using the data and calculation methodology MSCI ESG Research, the authors show that the ESG portfolio also vastly outperforms its standard counterpart in terms of underlying weighted average carbon intensity (102.8 tons CO₂e/USDm sales  vs 160 tons CO₂e/USDm sales) and ESG quality scores (6.8 vs 5.3).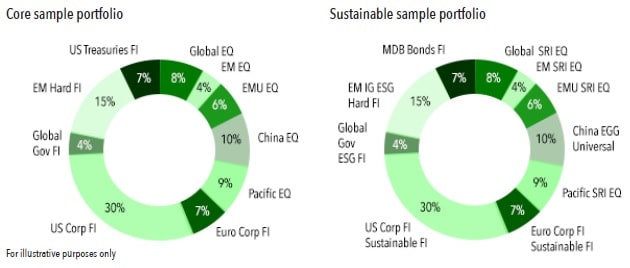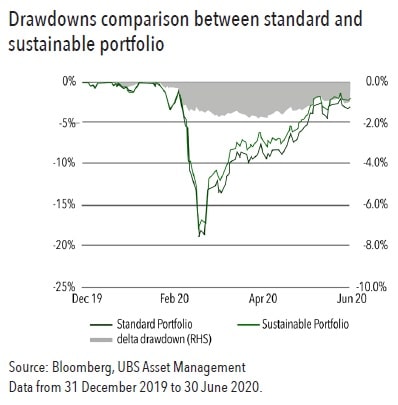 The ESG integration was able to generate an ESG portfolio that outperforms in terms of risk/returns.
The sustainable portfolio outperformed its standard counterpart by 221 basis points (bps) between October 2017 and September 2020. This is equivalent to an average outperformance of 68bps per year. In parallel,  the sustainable portfolios also exhibited lower volatility, while also experiencing lower levels of drawdowns during the first half of 2020 when the outbreak of COVID-19 rocked global financial markets
Constructing an ESG Fixed Income Index
The appeal of ESG fixed income products is particularly strong in Europe. According to Guberti and Kybourg's assessment, European ETFs represented 51.6% of total global sustainable AUM and 47.3% of all products by June 2020. This popularity is echoed in Morningstar's 2020 Global Landscape2 report on passive sustainable funds which reports passive sustainable funds in Europe had growth to US$188 billion by the end of June 2020, 9.2% of all passive assets in the region3.
Responding to the high investor demand for ESG ETFs, the Swiss asset manager set up a new ETF tracking the J.P. Morgan EMU Government ESG Liquid Bond Index, which is an ESG version of its pre-existing J.P. Morgan EMU Government Liquid Bond Index.
Based on the Euro-denominated government bonds of Eurozone countries held by the benchmark index, there is an ESG filtering applied in order to identify those issuers with a better ESG profile, based on J.P. Morgan's proprietary ESG score system¬ – JESG. The scoring system aggregates the ESG ratings of Sustainalytics and RepRisk, to track a country's ESG risk based on trends, events and daily news.
The constituents of the reference index are then reweighted based on categorizing normalized ESG scores into 10 bands (1 being the best and 10 the worst). Bands 6-10 being excluded and those in bands 1-5 being selected and reweighted. Higher-rated ESG sovereigns are promoted, while reducing bonds with lower ESG ratings.
The index applies a minimum 6-month holding period before an issuer can return to its previous higher JESG band. However, trend movements in JESG bands are reflected without delay. Finally, if an instrument is categorized as a "green bond" by the Climate Bonds Initiative, the security will receive a one-band upgrade.
The index includes bonds worth €1 billion or more issued by Austria, Belgium, Finland, France, Germany, Ireland, Italy, Netherlands, Portugal and Spain.4
Defensive Outperformance
The performance of the JPM EMU Government ESG index is particularly interesting and an example of how not to be fooled by first impressions. According to the analysis conducted by the UBS ETF analysts, between July 2015 and June 2020, the annual return and the yield-to-maturity of the ESG index marginally underperformed its benchmark by 6 basis points.
The slight underperformance is driven by a high level of correlation between the ESG rating and the sovereigns' credit ratings. Therefore, as a by-product of the ESG selection, the credit quality is slightly improved, reducing the weight of higher-yielding credit buckers (e.g. weight of BBB decreases from 40% to 34%).
Unsurprisingly, the index shines during times of crisis when spreads to European Government bonds widen. During all eight of the intra-EMU spread widening periods identified by JP Morgan since 2015, the EMU Government ESG index delivered excess returns versus the standard EMU index. The defensive positioning provided by this index is particularly relevant for the Euro-zone, a region plagued by regular concerns about coherence and intergovernmental solidarity.
"As part of our strong commitment to sustainability, we aim to offer our clients a wide variety of ESG ETF exposures. The UBS ETF EMU Government ESG ETF is an important addition to our product shelf and allows investors to make use of the risk-diversifying characteristics of European Treasuries while incorporating sustainability in their portfolio. Furthermore, the ESG screening offers a better credit score at a similar performance level to the standard benchmark and therefore provides a good alternative for a fixed income investment in euro-denominated government bonds", says Florian Cisana, UBS ETFs & Index Funds, Strategic Markets EMEA.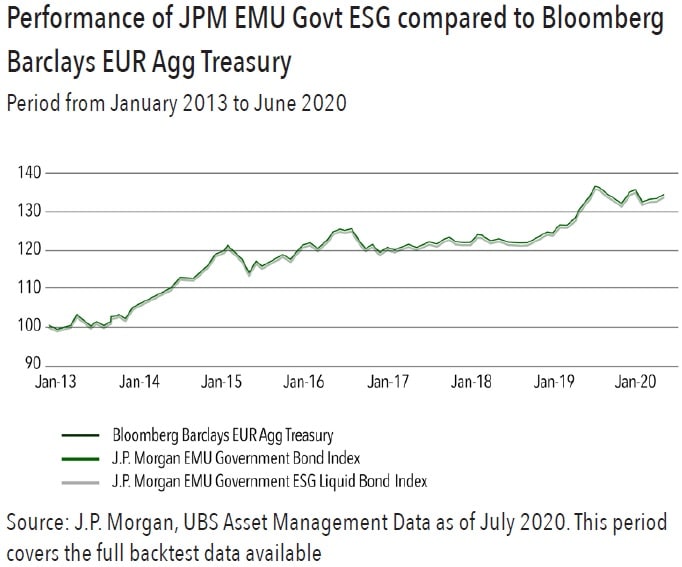 Sources:
1 UBS ETF On Track Magazine Q2.2020: https://www.ubs.com/se/en/asset-management/etf-institutional/research/on-track-magazine.html
2 Desclee, A., Dynkin, L., Maitra, A., and Polbennikov, S. (2016) ESG Ratings and Performance of Corporate Bonds. The Journal of Fixed Income, Summer 2016, 26 (1) 21-41
3 https://www.morningstar.hk/hk/news/205231/passive-sustainable-funds-the-global-landscape-2020.aspx
4 https://www.etfstream.com/features/europe-leads-the-way-with-esg-passives-amid-favourable-regulatory-backdrop/