Stockholm (NordSIP) – According to Transparency International's (TI) 2020 Corruption Perceptions Index (CPI), Denmark, Finland, Sweden, and Norway were among the least corrupt countries in the world, together with Switzerland, New Zealand, and Singapore. At the bottom of the rankings, TI sheds some less-flattering light on Croatia, Hungary, Romania, and Bulgaria. However, they still rank miles above unstable countries like Venezuela, Yemen, Syria, South Sudan, and Somalia. Nevertheless, Nordic countries can still do more to improve their performance, according to TI.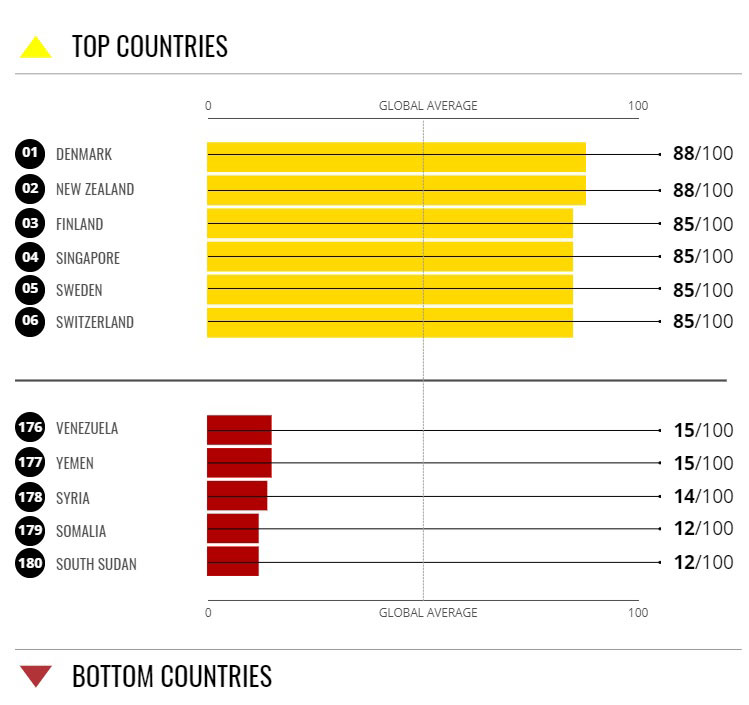 Not so Squeaky Clean
Despite generally toping its ranking, TI notes that Nordic countries should not rest on their laurels. Corruption and money laundering concerns are rife in the region. The Danske Bank scandal in Denmark, the lack of enforcement against foreign bribery in Finland, accusations that Norway's DNB facilitated money laundering, a US$120 million administrative fine applied to Sweden's SEB and a recent warning by the OECD that Iceland needs to improve detection and enforcement against foreign bribery offences, all stand as a stain on the region's reputation.
Corruption and COVID-19
According to TI, "the data shows that despite some progress, most countries still fail to tackle corruption effectively. Reports show corruption is prevalent across the COVID-19 response, from bribery for COVID-19 tests, treatment and other health services, to public procurement of medical supplies and overall emergency preparedness."
More broadly, one of the issues defining 2020 was the impact of corruption on countries' response to COVID19. "Corruption undermines an equitable response to COVID-19 and other crises, highlighting the importance of transparency and anti-corruption measures in emergency situations."
Recommendations
TI recommends four courses of action for governments seeking to reduce corruption. These include strengthening oversight, ensuring open and transparent contracting, defending democracy, promoting civic space, publishing relevant data, and guarantee access to information.
Image © Shutterstock