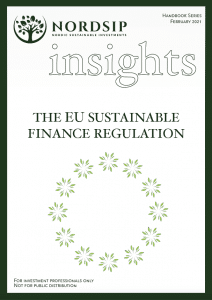 As Otto von Bismarck reportedly said, laws are like sausages – good to have but no one wants to see how they are made. Lawmakers are always rushed and those who are regulated find the rules cumbersome and often only accept them begrudgingly. The EU Sustainable Finance Regulation is no exception.
In this new edition of NordSIP Insights, we assembled the views of 8 asset managers & asset owners to provide perspective on what is yet to be achieved. Thanks to State Street's Ciara Horigan and Carlo M. Funk, Kåpan's Marie Giertz, Storebrand's Kamil Zabielski, Varma's Hanna Kaskela, SEB Investment Management's Robert Vicsai, Öhman's Fredric Nyström, Danske Bank's Erik Eliasson, Swedbank Robur's Karolina Skog and Handelsbanken's Karin Askelöf.
In keeping with this week's Insights, we looked at the questions that remain unresolved or unaddressed in the February 2021 draft Regulatory Technical Standards. Hedge fund managers, for one, are bound to be disappointed as the new draft is still silent on how to treat some of the asset classes and instruments that they use frequently.
In Norway, NBIM lays out arguments on both sides of the debate about the role of diversity in corporate and investment management, before landing in favour of diversity, in a very balanced position paper. Also in the Nordics, Nordea updated its sustainability plan to fully integrate sustainability into its business strategy to become a net-zero emissions bank by 2050.
Good news in Germany: Ola Källenius, Chairman of the Board of Daimler, announced that"Mercedes-Benz will earn as much from electric cars as its luxury combustion engine models by the end of this decade."
Meanwhile, Schroders started developing a model which forecasts the 30-year impact of global warming on annual portfolio returns. In a recent report, credit rating agency Fitch discusses which countries are exposed to "stranded asset" risk, and how it is likely to affect sovereign credit ratings.
For those interested in water, C8 Technologies, a Direct Index provider, is partnership with Thomas Schumann Capital®, a solution provider for water security and responsible investing, to produce two new water risk indices.
Last but not least, the Snap looks at geoengineers our modern-day superheroes and discusses their plans to dim the sun in Swedish Lappland.