Stockholm (NordSIP) – When the COVID19 pandemic hit the world in the winter of 2020, policy-makers coalesced around the view that a green fiscal stimulus would be one of the best approaches to mitigating the crisis' crippling effects. While the idea resonated with many experts around the globe, it really took Europe by storm, leading to 30% of the €750 million recovery fund being earmarked for projects compliant with the Paris Agreement.
However, according to a study of COVID-19-related fiscal rescue and recovery efforts by 50 leading economies so far from the UN Environment Programme and the Oxford's Economic Recovery Project, only 18.0% of the announced global stimulus was actually 'green.' The report concludes that global green spending "has been incommensurate with the scale of the ongoing environmental crises."
"Humanity is facing a pandemic, an economic crisis and an ecological breakdown – we cannot afford to lose on any front," says UNEP's Executive Director, Inger Andersen. "Governments have a unique chance to put their countries on sustainable trajectories that prioritize economic opportunity, poverty reduction and planetary health at once – the Observatory gives them the tools to navigate to more sustainable and inclusive recoveries."
Generally speaking, Nordic countries were leaders in the green recovery. Finland, Denmark and Norway have among the highest share of total recovery spending allocated to green projects. However, Sweden stands out as a regional outlier with Green recovery spending amounting to less than 30% of total recovery spending.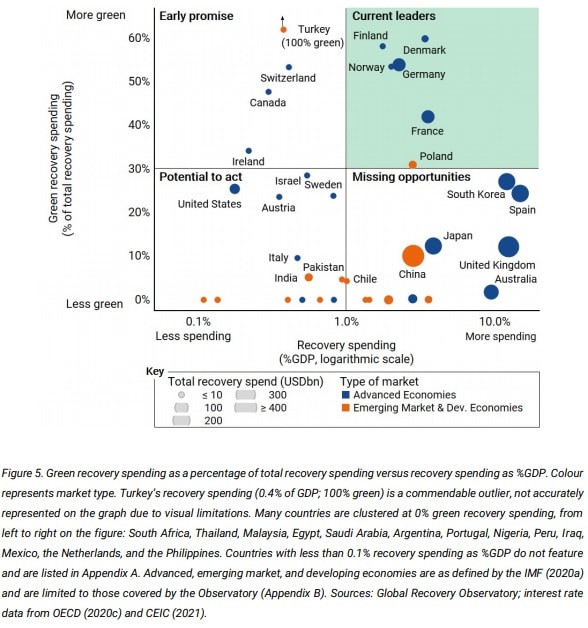 Beyond the headline figure, the report notes that US$66.1 billion was invested in low carbon energy, largely thanks to Spanish and German subsidies for renewable energy projects and hydrogen and infrastructure investments. Another US$86.1 billion announced for green transport through electric vehicle transfers and subsidies, investments in public transport, cycling and walking infrastructure.
According to the report, US$35.2 billion was announced for green building upgrades to increase energy efficiency, mostly through retrofits, notably in France and the UK. US$56.3bn was announced for natural capital or Nature-based Solutions ­(NbS)– ecosystem regeneration initiatives and reforestation.  Of this total, two-fifths were directed towards public parks and counter pollution measures, notably in the US and China. Moreover, US$28.9 billion was announced in green R&D including renewable energy technologies, technologies for decarbonising sectors such as aviation, plastics, and agriculture, and carbon sequestration.
"This report is a wake-up call. The data from the Global Recovery Observatory show that we are not building back better, at least not yet. We know a green recovery would be a win for the economy as well as the climate – now we need to get on with it," explains Professor of Environmental Economics at Oxford, Cameron Hepburn.