This article is part of NordSIP Insights – Investing Sustainably in Emerging Markets Read or Download the entire publication here.
Although the returns are often appealing, sorting the wheat from the chaff in emerging markets is a particularly difficult endeavour. While ESG factors can assist investors in their selection process, the prevalent lack or incompleteness of data in emerging markets complicates the task faced by sustainable investors.
To understand how such hurdles can be overcome, NordSIP reached out to Marcin Adamczyk, head of emerging market debt, and Edith Siermann, Head of Fixed Income Solutions & Responsible Investing at NN Investment Partners (NN IP), the asset management arm of Dutch insurance company NN Group.
RI Strategies that make sense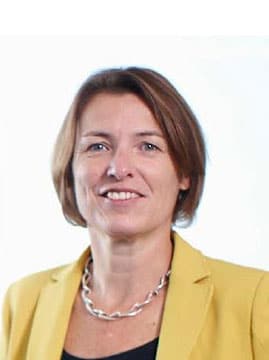 Siermann joined NN IP at the start of 2019 and has more than 25 years of asset management industry experience in senior positions in the financial industry, including spending the last decade leading ESG integration in different financial organisations. 
"One of the goals of my career was to promote ESG integration. To a large extent, my role at NN IP is to help our team incorporate and develop how we apply these factors to NN IP's investment decisions in a way that makes sense both from an investment point of view as well as from a real-world perspective," Siermann explains.
"Reporting CO2 emissions of a portfolio is one way to try to show ESG integration. However, that number itself is backwards-looking and tells me very little about the plans of the company or country," she adds. "Using several indicators can be useful, but that does not automatically translate into an investment strategy. At NN IP our goal is to create responsible investment strategies that make sense and lead to tangible outcomes, both financially and non-financially."
According to Adamczyk, EMs are changing quickly and most countries have been adapting to the rise of sustainable concerns. "It's tough to put a regional stamp on it. Some regions might lag on certain aspects, but the reality can be surprising". As an example, he points to China's 2060 carbon neutrality target, and the rapid expansion of its green bond market. Adamczyk identifies three challenges in emerging market: financing gaps, data and sorting.
Focus on the Journey
"The first challenge is the eternal conundrum that countries in the earliest development stages tend to have the biggest financing gaps," Adamczyk says. "Investors don't always appreciate what these countries are doing to improve their status. They need capital to reach social development goals, such as becoming safer, providing better education, and improving access to fresh and clean water."
EM asset managers need to use an analytical approach that takes these specific conditions into account when considering their options. "We've found that the key to investing in emerging markets is to focus on the journey," he says. "The focus should be on the path a country is on as well as where things stand today. Otherwise, simply excluding these countries denies them the capital they need to continue improving."
"At NN IP, we look at the improvement or deterioration of the ESG ratings. A static approach narrows down the universe of potential investment opportunities and limits diversification," Adamczyk explains.
Emerging Market Data Concerns
"The second challenge is that available data is often old, backward-looking, or plagued with missing values. Again, tackling this comes down to building the right frameworks that can handle this data carefully and provide confidence in their explanatory power," Adamczyk explains. Frequent analysis is also crucial. "If you review only at yearly or two-year intervals, you deprive yourself of opportunities that are arising now or will arise soon."
"You also constrain yourself from rewarding countries that are taking steps now, as opposed to three or five years ago," he says. Beyond integrating ESG analysis via proprietary stability and development scores into its quarterly assessments, NN IP's regional EMD portfolio managers also conduct a weekly ESG assessment for all EM countries in its universe. A big data tool is one of the inputs they use for their weekly ESG assessment
Adamczyk adds that "the quantity of data isn't necessarily the issue." Thanks to investor demand for increased transparency and to the efforts of multilateral organisations like the World Bank (WB) and IMF "countries are becoming more willing to disclose, and data is becoming much more accessible. "The issue is not the amount of emerging market data, but rather its quality and the ability of asset managers to analyse it and reach the right conclusions," Adamczyk adds.
NN IP's view is that what matters is the ability "to assess the data and draw comparisons between countries to reward countries that are making progress and take a more cautious approach to those that are deteriorating." According to Adamczyk the value-added of experienced managers is in their ability to identify "the common denominator in all the data and make it usable in a forward-looking manner." Data from the WB is a good starting point, but it needs to be enhanced with more frequent assessments. "That's where experience and quality of management come in," Adamczyk adds.
Finding the Common Denominator
The last challenge facing emerging market investors is the difficulty of finding a common denominator in an investment universe that includes countries as different as Brazil, China, Egypt, Indonesia, India, Mexico, Morocco, Pakistan, Poland or Russia. NN IP's solution was to develop an in-house ecosystem of data solutions and analysis to help it sort the wheat from the chaff.
"The advantage of developing our own proprietary model is twofold. First, we can ensure that the model fits well with your established investment process. Second, we can adapt more quickly to a changing world. In this environment you need to be able to adjust and enhance your framework quickly, rather than relying on an index provider that is slower to react and that uses a one-size-fits-all approach," Adamczyk explains.an>
The NN IP Analytical Eco-System
NN IP's analytical ecosystem covers both EM sovereigns and EM corporates. At the sovereign level, the asset manager operates an EM Sovereign risk model that fully integrates the NN IP ESG Lens to calculate a proprietary country score for all of the over 80 countries that make up the EM investment universe. "The ESG Lens is made up of a Development Score, which captures traditional ESG factors and is geared towards the long term, and a Stability Score, which captures the potential impact of ESG risks as well as mitigating factors that may be in place,"Adamczyk explains.
"In our investment process, we use a mix of macroeconomic factors and the ESG Lens to predict sovereign risks, as captured by yield spreads. The inclusion of the Stability and Development scores actually increases the model's predictive power, especially for high-yielding countries. This is intuitive because investing in EMs works best in the medium term", Adamczyk tells NordSIP. "You need to be able to identify risks and be mindful of whether the country can handle those risks."
At the corporate level, NN IP is interested in incorporating ESG insights to identify companies' material risks and reveal how well they are being managed. The corporate framework works in a similar way to the sovereign framework, it applies the ESG Lens for corporate analysis. For each company, the granular ESG information is translated into an ESG Lens score between 0 and 100, based on NN IP's sector-specific materiality framework.
According to Siermann, the problem for corporates issued in Emerging Markets is that data is extremely incomplete. "52% of the data is missing for the investment universe," she tells NordSIP. To overcome this problem, Adamczyk and Siermann can rely on the work of NN IP's Innovation & Responsible Investing which have developed a model for filling in the sustainable data gaps for emerging market borrowers.
ESG-Net
Faced with missing values, investors can either ignore the dataset, or replace the missing values with estimates. However, the options for replacing values are normally not very appealing, involving the use of averages from the dataset or the industry. To resolve this issue, NN IP's EMD investment team collaborated with the investment scientists from its Innovation & Responsible Investing platform to build a solution that can intelligently estimate data points using a neural networks approach: ESG-Net.
The ESG-Net estimation process for missing data takes a two-step approach. First, it teaches the model what the relationships are within the dataset. Neural networks are particularly well-suited to identifying non-linear relationships, and can be trained quickly to identify complex patterns hidden in the data. For example, if it is available, the model can use existing data on bribery and corruption risk to predict a variable like business ethics score based on the relationships estimated across the rest of the dataset. This methodology allows NN IP to fill in all originally missing ESG inputs with estimated values.
In the second step, NN IP uses a similar neural network to estimate top-level ESG scores. The Dutch asset manager uses this model to predict ESG scores for the companies which had been removed from the dataset and then compares the network's prediction of the ESG score and the actual score. This comparison also allows NN IP to estimate its model's error. The process is repeated several times to get a robust estimate of the distribution of estimation errors.
According to NN IP, the distribution of the estimation error does not have fat tails: the average estimation error of ESG-Net is relatively low at 5.8%, while at the same time the estimated ESG score was less than 18 percentage points away from the actual score in 95% of cases.
Operating in this analytical ecosystem is an advantage for NN IP. "The EMD team can combine the ESG Lens scores and the predicted scores from ESG-Net to understand the material risks they are facing and make better investments decisions," Siermann explains.
Looking Ahead
Going forward, Siermann hopes to shine some light on the sustainability analysis of sovereigns. "We are putting a lot of focus on the sovereign side, which is very important for EMD investors but is not as developed as ESG integration on the corporate or on the equity side. There is no reason for this. Sovereign issuers are a very important part of the fixed income market," Siermann says.
"A lot of work remains to be done in the sovereign space, both in terms of the broader ESG data as well as climate, which is an area high on the agenda of governments and regulators. Sovereigns play an enormously important role in this field," she explains.
Siermann hopes to extend the use of big data sources and statistical techniques to the ESG Lens. "Our goal is to extend the range of tools at our disposal to stimulate and continue to enhance the responsible investment insights we are able to gain about the market," Siermann adds.
"At the moment, corporates are the main focus of climate investment strategies, not sovereigns, because there are no mandatory reporting requirements for sovereign institutions. This leads to questions like: how do we assess the climate footprint of a sovereign? Do we focus on the whole country or just what is directly attributable to specific sovereign organisations? Regulations, such as the EU Taxonomy or Sustainable Finance Disclosures Regulation, focus also exclusively on corporates. We believe there's a lot to gain here, hence is why we are focusing on making progress in this area," Siermann adds.
"We have a very loyal client base that has been investing in our EMD strategies for over 20 years, which also includes Nordic institutional investors," says Siermann. "We believe our innovative way to integrate ESG factors, and the flexibility it provides us to tailor solutions to our clients' needs will further strengthen our relationships with investors in the Nordic region. Going forward, we expect to continue to expand our EMD footprint across the region by continuing the intimate dialogue with institutional investors and provide solutions that aid them in reaching their objectives," she concludes.
Credit: Andrey Yalansky via Twenty20