Stockholm (NordSIP) – It has been a couple of months since the EU's Sustainable Finance Disclosure Regulation (SFDR) came into force on March 10th. By now, the initial confusion over the new classification system has abated, and all European financial products have been assigned to one of four main sustainability categories: dark green (Article 9), light green (Article 8), non-green (Article 6) and the rest.
Last week, the Swedish Investment Funds Association (Fondbolagens förening) published a summary of how Sweden-registered funds have been classified. Based on information acquired from all the association members, the report provides a valuable overview of the current degree of sustainability in the Swedish fund market.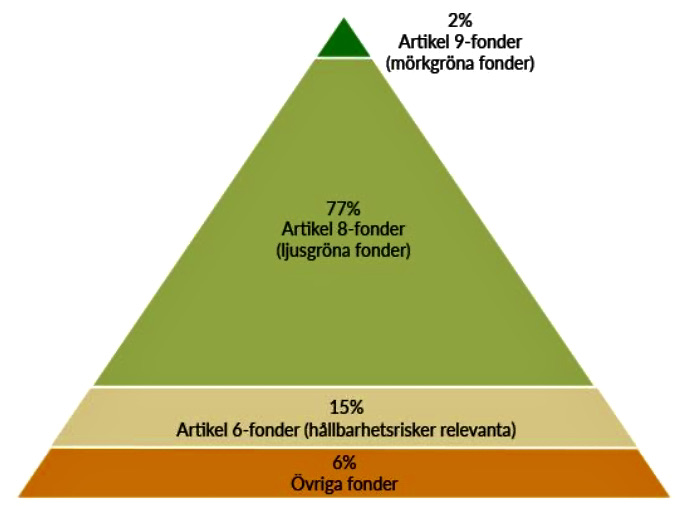 According to the report, 77 % of Swedish funds, accounting for 92 % of assets under management, have been classified under Article 8, also known as 'light green'. This category includes financial products which "…promote, among other characteristics, environmental or social characteristics, or a combination of those characteristics, provided that the companies in which the investments are made follow good governance practices."
Article 9, or 'dark green' funds, currently account for only 2 % of the funds and the assets under management. This category includes products targeting bespoke sustainable investments and applies "… where a financial product has sustainable investment as its objective and an index has been designated as a reference benchmark."
15 % of Swedish funds, accounting for only 5 % of assets under management, are currently classified under Article 6, i.e., funds that are not promoted as having ESG factors or objectives yet take sustainability risks into account in their investment decisions.
The last category, those motivating why sustainability is not at all relevant for their investments, account for the remaining 6 % of funds and only 1 % of assets under management.
"Swedish funds are at the forefront when it comes to sustainability and have been for a long time. As we can see from the statistics, the majority of Swedish funds are also light green according to the new EU regulation. This is positive and means that Swedish investors have a large range of funds that work with sustainability to choose from. Some funds are dark green, and it is a niche that we believe may grow", comments Fredrik Nordström, CEO of the Swedish Investment Funds Association (in Swedish).
Image by Mabel Amber from Pixabay