As the salience of climate change continues to increase for both investors and regulators, index providers and asset managers are developing new channels to facilitate investments supportive of the Paris Agreement's goal of keeping temperatures from rising above 1.5°C. The launch of the European Union's Sustainable Finance Disclosure Regulation (SFDR) in March, as well as the bloc's definition of Paris Aligned Benchmarks (PABs), have been a boon for climate strategies.
On Wednesday, May 26, 10:30am CEST UBS will host the webinar:
"The Journey to a 1.5 °C Scenario: Achieve your net zero objective with UBS ETFs"
Don't miss it: register here!
To achieve the net-zero target embraced by many national governments and multinational corporations by 2050, our societies will have to carry out major structural reforms. However, while consumers, governments and regulators have an important role to play, a large share of the decarbonisation burden must, inevitably, fall on companies.
To support equity investors' efforts to reduce their climate risks UBS and MSCI partnered to launch the UBS MSCI Climate Paris Aligned UCITS ETFs family based on the equivalent line of MSCI indexes.
Investor Demand
"There is strong investor demand for Paris Aligned ETFs. Currently, the strongest interest UBS sees for the Paris-Aligned ETFs is from professional investors such as Wealth Managers, Private Banks and Asset Managers but we are also in discussions with Pension Funds, Corporates and Insurance Companies on this topic," says Florian Cisana, Head UBS ETFs & Index Funds Strategic Markets EMEA at UBS AM.
"We are having a lot of discussions and see demand from investors across most EU countries. Where Nordics investors do stand out, is in having always been at the forefront of the adoption of sustainable solutions. Therefore, the level of knowledge and understanding of Nordic clients is generally higher and this could ideally lead to a quicker adoption of the new PAB framework," Cisana continues.
"Some Nordic investors are specifically interested in the Paris Aligned indexes while others are more generally interested in how to decrease the carbon footprint of their portfolio with the combination of different types of ESG ETFs. Overall, there is strong interest for ESG ETFs tracking indexes with a focus on reduced carbon emissions. We'll be able to see if the new regulation leads to large shifts in client allocations in the months to come," Cisana adds.
The Index Methodology
The MSCI Climate Paris Aligned indexes create portfolios of companies that are aligned with the recommendations of the Task Force on Climate-related Financial Disclosures (TCFD) The index is built in three steps, that focus on reducing transition and physical risks as well as capturing the opportunities arising from transitioning to a low carbon economy. Guided by the "do no harm principle", the first step applies baseline exclusions to companies that face severe ESG and environmental controversies, as well as to companies involved in controversial weapons and tobacco. The second step focuses on activity-based exclusions targeting companies that derive more than 1% of their revenue from thermal coal mining, 10% or more of their revenue from oil & gas, and 50% or more from power generation.
Based on this screened investment universe, in the third step, the indexes then apply an optimisation process based on the MSCI Barra Global Equity Model for Long-Term Investors (GEMLTL) that aims to identify transition and physical risks, transition opportunities and diversification opportunities as per the recommendations of the Task Force on Climate-Related Financial Disclosures (TCFD).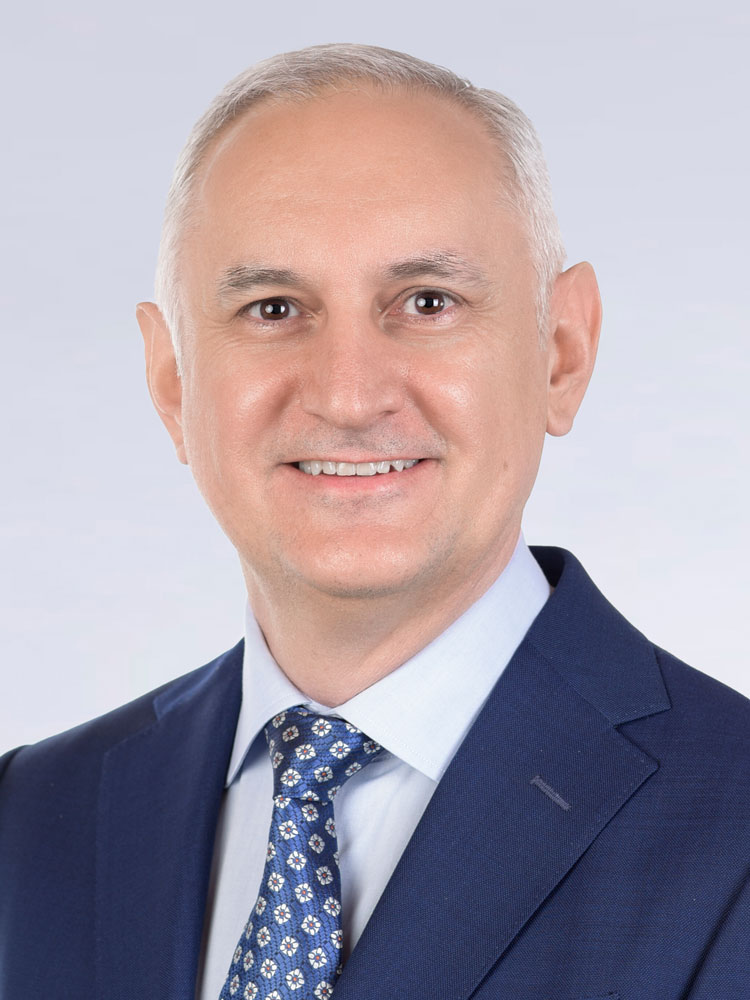 "By looking at metrics like Carbon Emissions, the methodology controls for current and historical level of emissions at a portfolio level," Willem Keogh, Head of UBS ETF Investment Analytics explains. "At the same time, by looking at additional metrics like the Decarbonization Trajectory, Climate Value at Risk and Low Carbon Transition Scores the methodology aims to align to potential future scenarios. The forward-looking aspect is particularly relevant because one must not only focus on mitigating the risks, but also capture opportunities that will inevitably arise from the transition to a low carbon economy. For this reason, the indexes tracked by our ETFs make use of certain proprietary assessments performed by MSCI like the climate Value at Risk and the Low Carbon Transition Scores," Keogh continues.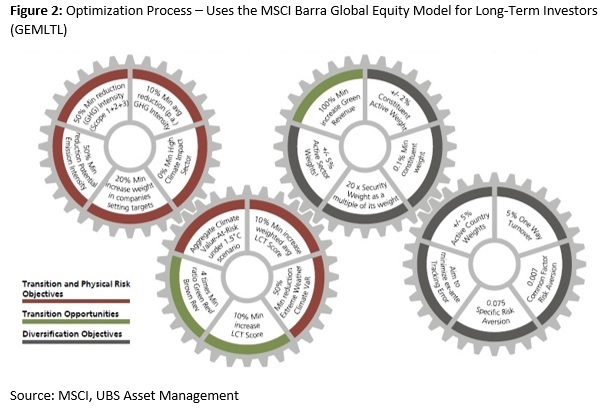 Low Carbon Transition Scores
The indexes' transition risk assessment is informed by the MSCI ESG Research's Low Carbon Transition Score assessment which identifies potential leaders and laggards by estimating companies' current exposure to the economic transition to a lower carbon environment. The assessment focuses on policy and technological scenarios and yields two company-level factors. The "Low Carbon Transition Category" groups companies in five categories highlighting predominant risks and opportunities of transitioning.  The "Low Carbon Transition Score" calculates an industry-agnostic score based on multi-dimensional risks and opportunities assessment considering predominant and secondary risks of transitioning. Companies facing transition risks are underweighted in the MSCI Climate Paris Aligned indexes, while those poised to benefit from the transition are overweighted.
The Climate Value-at-Risk Approach
The MSCI Climate Paris Aligned indexes calculate an aggregate Climate Value-at-Risk which aims to account for physical as well as policy risk and technological opportunities. The model estimates the future costs related to climate change and shows the impact on the current valuation of securities over the next 15 years. The integration of the Extreme Weather Climate VaR in the selection allows the indexes to reduce their exposure to physical risk arising from extreme weather by at least 50%, vis-à-vis the benchmark fund. The Policy Risk and Technology Opportunities Climate VaR also align the portfolios to a 1.5°C climate scenario.
Beyond the potential costs created by climate policy scenarios, the MSCI Climate VaR also quantifies which portfolio companies could profit from their existing and future low carbon innovative technology capacities. While only adding a small tracking error, the methodology allows the indexes to increase the weight of companies with positive exposure to climate transition opportunities and reduce the weight of companies that are exposed to climate transition risks. The optimisation also allows a reduced exposure to companies assessed as high carbon emitters using Scope 1, 2 and 3 greenhouse gas emissions, while increasing the weight of companies with credible carbon reduction targets.
A brief comparison (Figure 3) of the climate VaR assessments of the MSCI EMU Index with its Climate Paris-Aligned counterpart shows that the incorporation of these insights substantially reduces the exposure to Physical Climate and Policy risks as compared to the parent EMU benchmark while increasing the exposure to Technology Opportunities.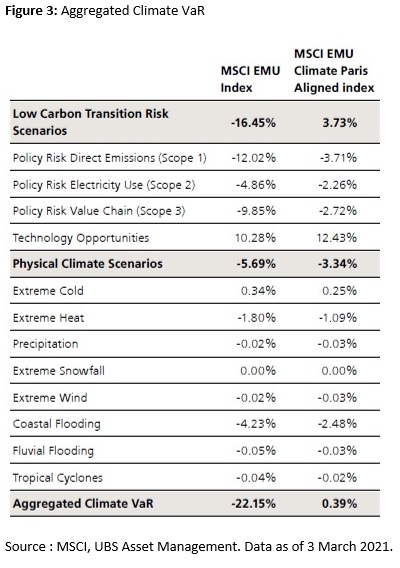 Exceeding PAB Minimum Standards
By following this methodology the UBS ETFs that track the MSCI Climate Paris Aligned- Indexes exceed the minimum standards for EU PAB and can be classified as Article 9(3) funds under the SFDR.
"Our PAB exposures are aligned with the regulation on the EU Climate Transition, the EU Paris Aligned Benchmarks as well as the recommendations of the Task Force on Climate-related Financial Disclosures," says Keogh, speaking of the UBS MSCI Climate Paris Aligned UCITS ETFs. "In several criteria, the rules of our benchmark not only meet but exceed those minimum standards."
"The choice to exceed the minimum standard was motivated by our belief in the need for additional efforts in order to align with a 1.5 °C climate scenario by 2050. The most prominent example in this sense is our 10% year-on-year self-decarbonisation glidepath, which exceeds the 7% decrease required by the minimum standards," Keogh adds.
"The inclusion of Scope 3 emissions since June 2020 and the inclusion of climate Value at Risk and Low Carbon Transition Score improvement, which complements a more holistic climate change philosophy also exceed the minimum standards.  This more ambitious decarbonization trajectory, together with the reduction of the index's carbon intensity by 50% (Scope 1+2+3), is representative of our efforts to align with a 1.5 °C climate scenario by 2050," Keogh explains.
"In our view, these PAB solutions can help achieve an orderly transition from the current state of affairs to an economy that is aligned to a 1.5 °C climate scenario by 2050.  A key innovation of these PAB ETFs is that the analysis from an environmental and carbon perspective becomes more holistic, combining both backwards-looking and forward-looking measures," Keogh concludes.
To find out more about how to achieve your net zero objective with UBS ETFs join a team of experts, on Wednesday, May 26 at 10:30am CEST.
Don't miss it: register here!