Stockholm (NordSIP) – The financial community's ability to contribute towards the achievement of the goals of the 2015 Paris Agreement and the broader UN Sustainable Development Goals depends on the logistical capacity to chase these targets. Such a capacity relies on a range of specialised resources, not just trained ESG analysts, but also data feeds and related tools.
One often neglected area, due to its inherently procedural nature, is engagement. Although some companies provide proxy voting services, the entire process of managing an asset manager's engagement process is normally handled in ad-hoc ways, via in-house or generalised software tools. To address this gap in the market, Swedish company Esgaia (previously Acty) offers a specialised digital engagement solution.
Meet Esgaia
The company was founded in 2020 in Stockholm, at the start of the pandemic, with the stated goal of simplifying active ownership. Since its inception, it has grown fast, with clients in the Nordics and the UK responsible for managing over €235 billion in combined assets under management.
"I used to work in ESG analysis and engagement for a financial institution and it became apparent that there was a need for a flexible off-the-shelf tool to simplify the engagement process. This realisation was the fuel for the creation of Esgaia," Anton Ljung, CEO and founder of Esgaia, tells NordSIP.
Centralised Engagement
"Esgaia gives asset managers the opportunity to gather and centralise all of their ESG engagement data in one place," Ljung explains. "Asset managers are able to use Esgaia's digital platform across their investment team to coordinate tasks, automate reporting, export crucial data and collaborate with other investors to increase the awareness of their engagements and pool capital together to increase the influence."
Esgaia's clients can choose between three types of user plans, depending on how many features they want to include. The "Basic" plan allows users to create unlimited engagements, automate statistics, export data, set up notifications and import historical engagements. "Professional" users can also use the platform to track controversies, automate portfolio mapping and voting. "Enterprise" users have access to a range of more advanced features, including personalised onboarding, custom engagement templates and development, various user levels, third-party integration and integration of API's.
Esgaia's Capacities
Talking with NordSIP, Ljung described Esgaia as akin to a project management tool tailored to the specific needs of the engagement efforts conducted by investors. "Users can store all investee interactions, including meeting notes and emails. All the information is gathered in one place and can easily be shared between team members, simplifying the workload, enhancing transparency and efficiency" Ljung says.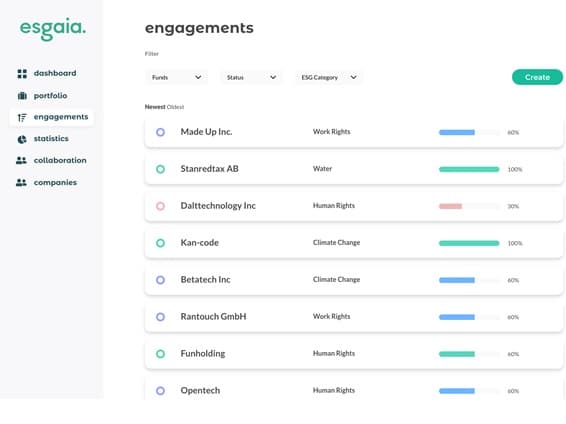 "When creating an engagement, users can define a range of data points such as ESG-categories, materiality, extent of the impact, related SDGs, PAI-indicators and more. Projects can include a single engagement targeting one company or a thematic engagement, targeting multiple companies," Ljung adds.
"Esgaia allows users to keep track of milestones and monitor the engagement progress. The platform provides functions giving a great overview of the engagements and their current statuses. This saves time and gives control over the entire process. Aggregated or specific portfolio data can easily be exported," Ljung explains.
Growth Potential
"Our team is passionate about ESG-related issues and we truly believe sustainable investment practices are key to business growth, profitability, and a brighter future," Ljung says. "Big or small, we always strive to work together closely with our customers to help them be more successful with their engagements and improve their portfolios' ESG performance," he notes.
"This is a very young sector, but we believe it is ripe for growth, both in terms of customer demand, as well as in terms of the services that we can provide others. The business case is very clear and international demand is strong," Ljung says.
Beyond the footholds we've established in the Nordics and the UK, the strong interest for ESG in France, Switzerland and the Netherlands makes these countries natural markets for us to expand towards. It is still early days but we have grown fast and are hoping to continue to benefit from this momentum," Ljung concludes.
Image courtesy of Esgaia