Stockholm (NordSIP) – While sustainable fixed income markets provide easy ways to quantify the financial sector's ability to channel funding to ESG projects, issuance amounts, interest rates and greeniums do not provide a complete picture of what is going on. Between the efforts of the borrowers and the funds of the investors, the banks that operate as dealers in this market can often be forgotten.
To overcome this gap in coverage, the Anthropocene Fixed Income Institute (AFII) provides regular league tables based on net fee intake from green versus fossil bond and loan syndications. According to the AFII's most recent report, a previously observed trend remains in place: French banks top the net green/fossil dealer charts while Japanese and regional North American ones sit at the bottom (Figure 1).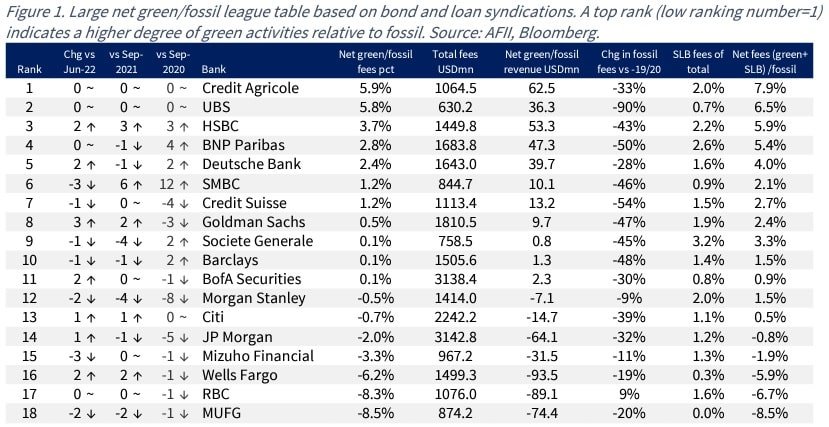 The latest report singles out the progress of leaders and laggards since the previous quarter. "We see HSBC climbing the ladder to enter the top three at the same time as RBC firms up its place as a top fossil funding activity player, indeed the only bank that has been in creasing its intake of fees from fossil funding relative to energy transition activities. Goldman seems to be on a pretty consistent climb (or shall we say by jet propulsion to do that cephalopod comparison?) upwards, and – although dropping a bit this time around the trend for SMBC remains upwards, not least in the context of the high-fossil performance of local competitors Mizuho and MUFG."
Structural Incentives
According to Ulf Erlandsson, Founder and CEO of the AFII, these dynamics are not mysterious. The status of Japan as a laggard is the result of structural economic conditions. "Japan has a very fossil-fuel dependent economy. Japanese banks are engaged in a lot of financing transactions of overseas fossil project, including fossil gas in Australia, coal plants in ASEAN, among others. Regional North American players are doing lots of transactions for local energy companies, such as oil sands and pipelines in Canada and shale gas in the US. But still, we can see differentiation among regional players," Erlandsson continues.
The power of economic conditions is also visible in the present macroeconomic conditions and their effect on the whole market. The ongoing energy price hikes caused by the energy embargoes associated with Russia's invasion of Ukraine have created windfall profits in the fossil fuel energy sectors. As a result, there has been less of an incentive for these institutions to issue debt and for intermediaries to help them come to the market. According to AFII data, fees for the lead banks in 2022 so far have fallen to US$1.2 billion from US$2 billion in 2020. "There's been quite a reduction in fees from that type of issuance," Erlandsson says.
Regulating for Leaders
The success of French banks seems to be driven by regulatory incentives. "French banks generate a lot of revenue from green bonds. In absolute terms, they are generating more revenue from those instruments than some of the largest banks, three times their size. I think France's Regulation 173 has a big role to play in this," Erlandsson argues.
The regulation, introduced in 2016, requires insurers, pension funds, asset managers and other institutional investors, but not banks, to report annually their climate-related exposure and climate change mitigation policy. Erlandsson's view is supported by a Banque de France analysis, which finds "that investors subject to the new disclosure requirements curtailed their financing of fossil energy companies by some 40% compared to investors in the control group." Transparency seems to have done its duty.
The power of such an approach creates hope that tools such as the league tables published by the AFII could help export France's experience abroad. "We are working with a few stakeholder that have started implementing variations of this league table. We expect counterparty selection mechanisms based on ESG criteria like these lists to grow in importance. It is a quite straightforward and impactful way to add weight to one's climate/ESG strategy," Erlandsson concludes.