In my experience, the important parts of a conference don't happen in the plenary sessions. They happen outside, in between sessions, during lunch or at the parties. Of course, sessions are there for the delegates to learn something, but they are also there for other reasons. They provide an excuse, first of all. Without sessions, there is no conference. And without conference, there are no sponsors. Hosting an event of this magnitude requires a large budget. In the case of the PRI, there isn't only the event to support. The PRI in person also helps fund an entire year of meaningful activities, supporting signatories and the investment community at large with research and guidelines, collaborative engagement and other crucial achievements that enable responsible investment practices to grow around the word. If you want to know how it all started, we have summarised the first day's plenary.
So what happened outside of the sessions at this year's PRI in Person? You may find out first-hand from the delegates we met. One thing Julia hasn't failed to notice is the PRI's conscious efforts to keep panels diverse, as well as the amazing gender balance of the crowd. And for my part, I can disclose the points that we heard but will remain unattributed.
Looking around the Exhibitor Hall, the PRI in Person looks very different from what it did at the beginning. "It feels a lot more mainstream." It also looks quite commercial. I also heard that an organisation was lucky to have been able to snatch a booth as the spots went out like hot cakes. From a smaller organisation, we heard that booths weren't particularly affordable. Is this all for show, then? The sustainable investment experts who work for asset management firms disagree. "The sales team might be here for commercial reasons, but I'm here to learn and to forge relationships with peers as well as counterparts. For me, this is a meeting of minds, not a marketing fair."
Asset owners seem to feel the same way. An overwhelming majority of the asset owners we met were elated to be able to meet in person, finally! While the PRI in Person might have gone more mainstream, it remains a fairly open discussion forum where delegates are curious to learn from each other. While many asset owner delegates guard their time and attention carefully, some were generous in sharing honest impressions with us. It seems that a divide between asset owners and asset managers persists. While asset owners (and particularly so in the Nordics) might put an ever stronger emphasis on the need to focus on the long term, asset managers often oppose the argument that they need to cater to a wide variety of clients, with different investment horizons and diverging priorities. Collaborative engagement, when it comes to companies, has already proved to be tremendously effective in moving entire sectors towards positive change. It is time for collaborative engagement to move asset managers. "There are some initiatives around but I have yet to find a meaningful collaboration between asset owners when it comes to moving asset managers towards a more long-term investment horizon. Private Equity might be ahead compared to the listed space, for once," I heard a delegate say.
On the wish list for next year, I also heard several delegates would like to be able to meet companies. With such large amounts of assets under management represented in one place, there must be an opportunity to trigger more change. Meanwhile, the quality of the session's panelists has received high praise even if the sessions felt very long for the majority of delegates I spoke to. "Compared to a few years ago, it seems like we have arrived at a time where the level of expertise is finally up and we can spend time discussing solutions and implementation processes rather than listing a number of issues," someone said.
The rest of the backstage gossip, we will keep for ourselves. I suppose there is a value of attending in person – you just had to be there. But before concluding, I will answer two questions that we managed to elucidate: the packaged water containers are actually better than plastic bottles. 72% of the packaging material is of vegetal origins and it is supported by Carbon Trust. So why do they belong to the yellow bins instead of the green bins? This arduous question prompted this week's Laundromat column.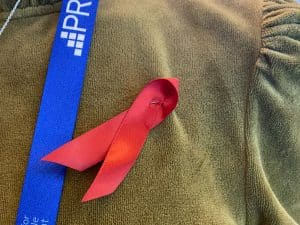 The red ribbon many delegates were exhibiting on December 1 is indeed the "original" AIDS awareness ribbon. While this symbol has been borrowed by several other worthy causes through the years, PRI speakers and delegates chose to raise awareness for a disease that is often forgotten nowadays, but is still a major concern, especially beyond the boarders of the first world.