Stockholm (NordSIP) – The difficult economic conjuncture that dominated financial markets in 2022 couldn't avoid but to spill over onto sustainable fixed income markets, be they green, social, sustainability or sustainability-linked (GSSS) bonds. With high inflation and rising interest rates, global sustainable bond issuance slowed down in 2022. Following a peak growth of 113% in 2021, GSSS bonds outstanding contracted by 20% in 2022 compared to 2021, ending up at some US$980 billion, just short of the US$1 trillion mark. However, Nordic markets resisted this momentum.
The Nordic View
Despite the global trend, Nordic sustainable bond issuance remained resilient and its broad-based appeal allowed issuance volumes to actually increased by 11.5%, reaching a total of €48.6 billion, up from €43.6 billion in 2021, and representing 16% of all bonds issued by Nordic entities, up from 13% in 2021. Average GSSS deal size in the Nordics also grew by US$14 million year-on-year in 2022 to US$184 million.
"We saw the sustainable bond market successfully weather a turbulent 2022 to earn a place as an embedded and legitimate part of the market. While the global sustainable bond market did face its first-ever year-on-year downturn, with the notable exception of the Nordic region, the underlying composition remained relatively stable. From a thematic perspective, sustainability has firmly moved into the mainstream and we will see 2022's headlines make way for a focus on detail and implementation in 2023," Jacob Michaelsen, Head of Sustainable Finance Advisory at Nordea Capital Markets, tells NordSIP.
Geographically, Sweden was the largest player but the entire region is experiencing growth. Compared to 2021, Denmark almost doubled its issuance volume to €8.7 billion from €4.6 billion in 2021. Other countries grew too, except for Iceland whose issuance decreased by 30%.
Products and Sectors
Green bonds continue to dominate in the Nordic Sustainable Bond market taking approximately 88% of the market share, down slightly from 90% in 2021. Sustainability-linked bonds were the second most used product, increasing their market share from 5% to 9%, whereas Social and sustainability bonds remained minor products with a combined market share of only a little over 3%. Despite hopes of growth, high market volatility kept high-yield issuers away from sustainability-linked bonds. Compared to the Global Sustainable Bond market, the Nordic Sustainable Bond market appears far less diverse. In Global Sustainable Bond issuance, Green bonds captured 57%, sustainability bonds 17%, social bonds 17% and sustainability-linked bonds 8%.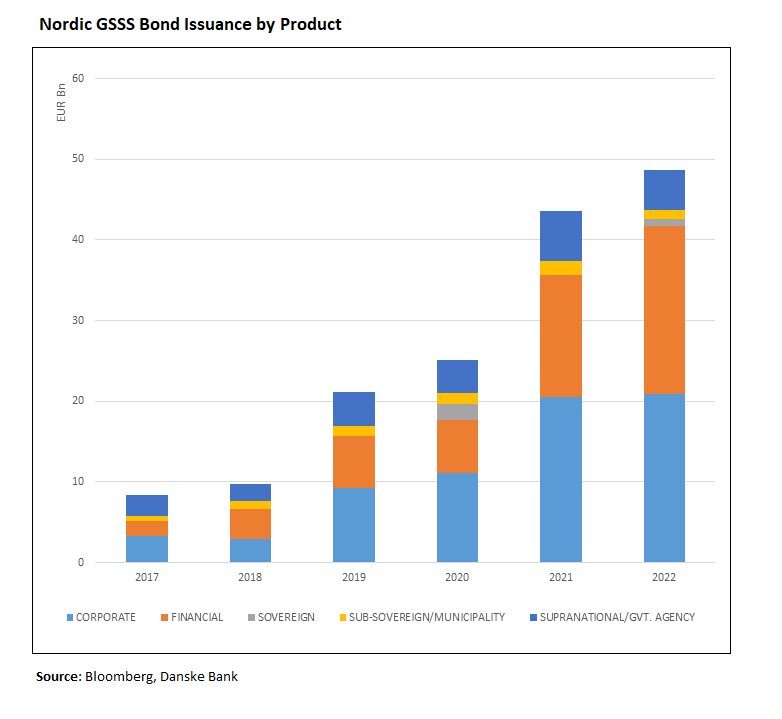 Sectorally, Nordic financial institutions had a really good year, increasing their issuance volume by 37% compared to 2021, and are now standing toe to toe with corporates, when both capture around 43% of the market. According to NordicTrustee's 2022 Nordic corporate bond market report, Green bonds have become a substantial part of the Nordic corporate bond market, representing 20% of the total outstanding volume. Other issuer types participate significantly less in the Nordic Sustainable Bond market.
"Corporate issuers tend to resort to sustainable bonds to smoothen the issuance process – especially in uncertain times. In the FIG space, the trend is also upward sloping although the share of sustainable debt of total issuance is smaller compared to corporates due to increased market funding activity overall, but also internal challenges with data quality to track the use of proceeds in the lending book, continuous generation of ESG eligible assets etc. In the SSA space, EU's sustainable bond programs have positively affected the issuance volumes of both green and social bonds, and the share of sustainable bonds of SSA EUR issuance has been on a positive trend over the years and is now between 20-25%. In the Nordics, many SSA issuers such as Kommuninvest, MuniFin and KommuneKredit have green bond frameworks in place,  but there is typically only one or two large syndicated sustainable bond deals per year per issuer, and the rest of the bond funding is conducted utilising the conventional format in various different currencies. Of the Nordic sovereigns, only Kingdom of Sweden and Denmark have green bond frameworks in place. Denmark issued its inaugural green bond in 2022 and Sweden already in 2020," explains Lars Mac Key, Head of DCM Sustainable Bonds at Danske Bank, believes Sustainable Bonds will set new records in 2023, both globally and by Nordic issuers.
2022 also witnessed the world's first sustainability-linked municipality bond from the Nordics, with the City of Helsingborg coming to the market with a SEK500 million bond in January and March. Staying in the same product, Norsk Hydro also issued a NOK3 billion dual-tranche sustainability-linked corporate bond in the fourth quarter of 2022.
"In 2022, the Global ESG bond market was down by approximately 30% compared to 2021. It was first full-year decline ever in ESG bond history. The decline reflected the overall bond market fuelled by high inflation and geopolitical risks resulting in wider spreads and market volatility. However, the ESG format has proven to be extra valuable under volatille market conditions securing deals are subscribed by investors and credit spreads are at reasonable levels," says Elin Larsson, Associate Sustainable Capital Markets at Swedbank. "Last year we were also the first Nordic bank to introduce ESG in direct lending and we expect the interest in ESG direct lending to increase in the upcoming years," Larsson adds.
Going Forward
"The first 6 weeks of 2023, really showed great strength. Global Sustainable Bond issuance is up just short of 30% from the same period in 2022 and of the record year 2021, active in all segments and products. Corporate issuers' appeal towards sustainable bonds is getting stronger and stronger – in January 2023, sustainable bonds consisted over 40% of total issuance in both EUR currency and in the Nordics," Mac Key says.
"We also see a continuous growth in ESG funds demanding issuers with good ESG profiles and issuers of Sustainable Bonds in particular. The EU taxonomy also helps to diversify the Green Bond market as we, through the taxonomy, have a better joint understanding to what is green in some sectors that earlier were challenging to determine," Mac Key adds.
"If market conditions are to stabilise in 2023, there are many issuers, which we'll see entering the Sustainable Bond market – especially in the high yield segment, which prepared already last year but used banks to bridge their short-term funding needs. At the same time we see that the already existing issuers are getting ready to hit the markets. With both the Sustainability-Linked Bonds to finance your transition and Green Bonds to finance their investments in the transition, issuers today have a wider range of options to utilise the market. This also speaks for a growth of the Sustainability-Linked format," Mac Key concludes.