Stockholm (NordSIP) – Starting in 2018, in response to the recently-launched UN Sustainable Development Goals (SDG), asset manager abrdn started publishing the Global Macro ESG Index. Since then, the document has become a staple of the company's research. The index scores and ranks 135 countries against 20 Environment, Social and Polical & Governance (P&G) factors to assist decision-making within abrdn's investment teams.
The latest 2022 report, authored by Alexandre Popa, Macro ESG Researcher, Lizzy Galbraith, Political Economist and Jeremy Lawson, Chief Economist and Head of abrdn Research Institute, provides interesting insights into the evolution of sustainability trends across the globe.
According to the latest report, Northern Europe continues to lead the world. However, the fact that generally speaking, global ESG scores fell for a second consecutive year should be a cause for concern. At the same time, abrdn has sought to refine its index in light of the Ukraine conflict. By integrating conflict risk into its macro ESG assessment, the asset manager hopes to have a clearer view of similar potentially difficult cases, such as China, India and Turkey, going forward.
Northern Europe in the Lead
At least going back to 2020, Sweden, Norway, Finland and Denmark have consistently been among the Top 5-ranked countries according to abrdn' Global Macro ESG index, together with Switzerland. The main change in the intervening three years is that while Switzerland was in second place behind Sweden in 2020 and 2021, over the last year the country has fallen to fifth place.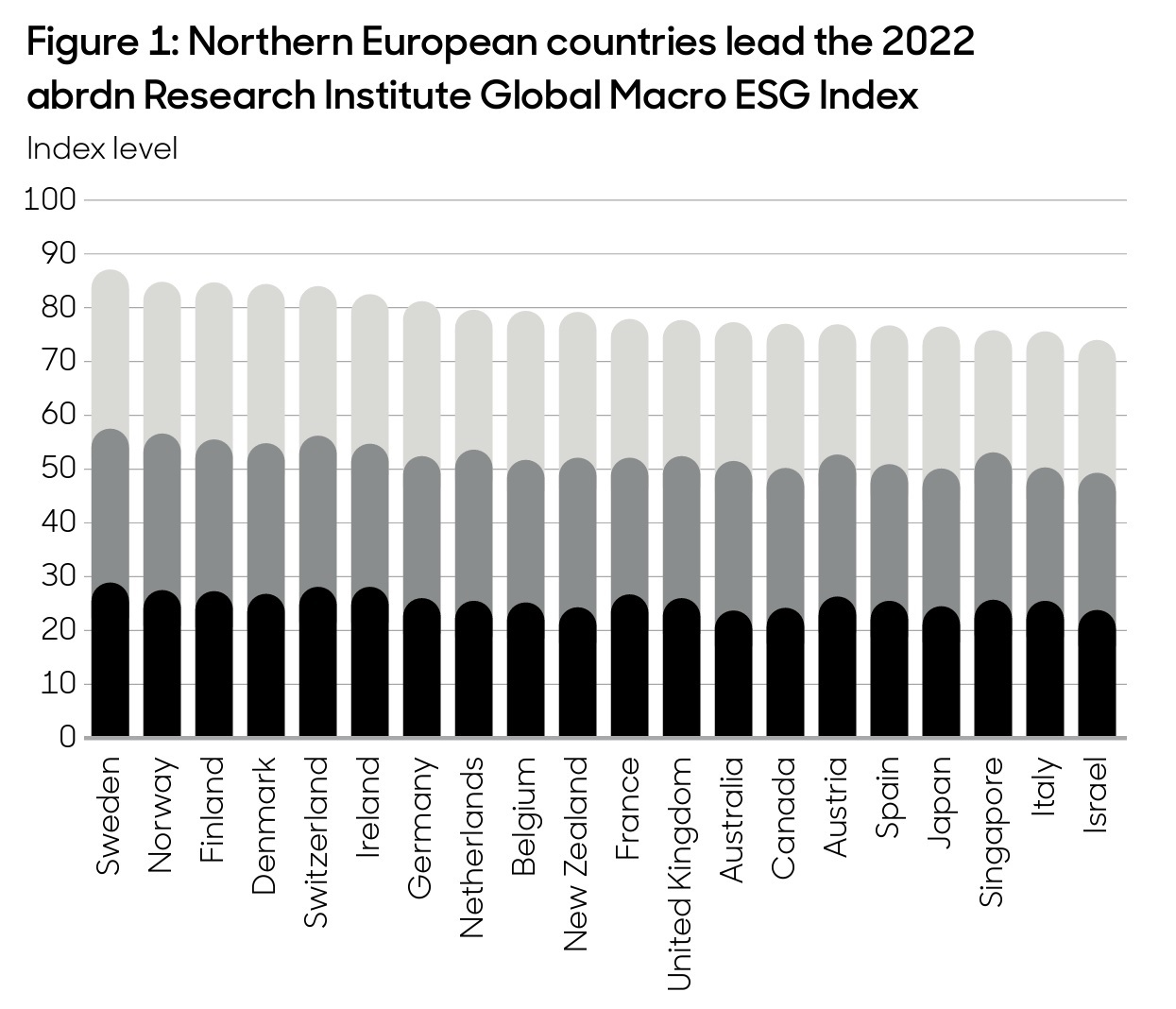 Weighed Down by Large Laggards
Global ESG scores fell for the second year in 2022. The report blames COVID19, noting that "the impact of the pandemic reversed advances made over the previous decade." However, the problem was also localised.
According to the report, "most of the countries at the bottom of the index are or have recently been at war, faced a humanitarian crisis or government repression. (…) The overall score of certain countries is weighed down by their poor performance along a particular dimension. For instance, India's environmental performance is especially weak while China's poor P&G institutions are the largest drag on its overall ranking."
But the issue is not exclusive to emerging market economies. According to abrdn, "P&G indicators have deteriorated the most over time", including in most G7 countries.
Conflict Risk and the Path Ahead
One of the main points that the report is keen to make is that the world we live in at the moment is not the same as the one we lived in ten years ago. In the "post-globalisation, era of rising inequality and heightened geopolitical tension, risk analysis must take into consideration the growing possibility of disputes erupting into violence. In addition to the tragic individual and social consequences, there are direct investment implications."
Following Russia's 2021 invasion of Ukraine, abrdn added a new conflict risk assessment framework to monitor the risks associated with wars, domestic unrest, and human rights violations, which the authors note would have flagged Russia as a 'very high' had it been in place in 2020. "In the future, this addition should help send more powerful signals to investment teams about the nature of risks they are exposed to, helping them adjust accordingly."
This methodology is already in place at abrdn. "The annual ESG index ranking is reviewed by fund managers on the team who exclude from investment consideration the more than 30 countries that fall within the bottom 25%. (…) Currently, government bonds and instruments used to express interest rate and currency views linked to China, India and Turkey are excluded from investment consideration for this strategy, based on the Index's view that these countries present higher ESG risks."