Stockholm (NordSIP) – At last week's (online) Copenhagen Fintech Week conference, Implement Consulting Group released a new report titled "Deciphering the Nordic Impact Map". The report sets out to disentangle the connection between fintech and sustainable investments and whether sustainability will be the next success theme for fintechs in the Nordics.
Implement Consulting Group's analysis maps 186 start-ups or scale-ups across the Nordic countries to five broad sustainability themes, which can themselves be shown to match different configurations of the 17 UN Sustainable Development Goals (SDGs). The five themes are financial inclusion, financing impact, anti-corruption and crime prevention, energy and climate and ESG data.
"Financing Impact" focuses on companies making it possible to invest in or finance impact activities. "Financial Inclusion" covers companies helping underbanked groups get access to different financial services. "ESG Data" describes the category of companies that use different kinds of datasets to analyse companies based on their ESG impact. "Energy and Climate" relate to companies focusing on developing data-driven CO2, waste reduction or carbon offsetting products. "Anti-corruption and crime prevention" refers to companies with solutions focusing on digital crime, anti-money laundering and anti-terror financing, among other similar focuses.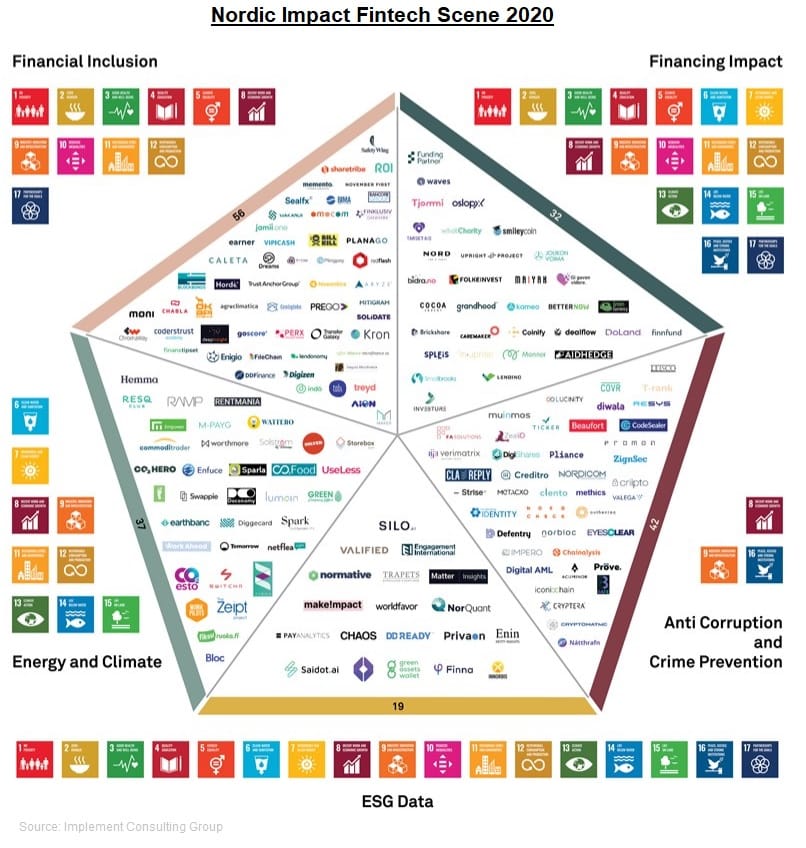 The number of impact fintechs is evenly distributed among the countries, with Iceland being the outlier due to the lower population number. The report covers 50 companies in Denmark, 52 in Sweden, 47 in Finland, 39 in Norway and 8 businesses in Iceland.
According to the report, the main focus of the Fintech startup and scaleup scene in the Nordic region is SDG 9 (Industry, innovation and infrastructure) with more than 43% of the impact fintechs. A third of companies could also be mapped onto SDG 16 (Peace Justice and Strong Institutions) and SDG 17 (Partnerships for the Goals). 32% of the companies considered could be described to be promoting SDG 8 (Decent Work and Economic Growth) while SDG 12 (Responsible Consumption and Production) covered 26% of the companies.
According to the report, the traditional financial sector in the Nordic region has moved from asking "why" sustainability should be a matter of concern to asking "how" these concerns can be addressed. Thus instead of focusing on existential considerations about the theme, the region is able to focus on "material strategic issues and attention to core business areas where the greater impact can be made." The report concludes that there are three key characteristics necessary for fintech companies to play a relevant role in this field: "Factuality and transparency to enhance certainty", the ability to provide "structure in a rather fragmented and diverse market" and "Innovative and disruptive solutions across product and service types".
Implement Consulting Group is headquartered in Copenhagen. It has offices in Stockholm, Malmö, Oslo, Zurich, Munich and Aarhus and employs over 700 consultants.
The report is available for download on Implement Consulting Group's website.
Image © Shutterstock